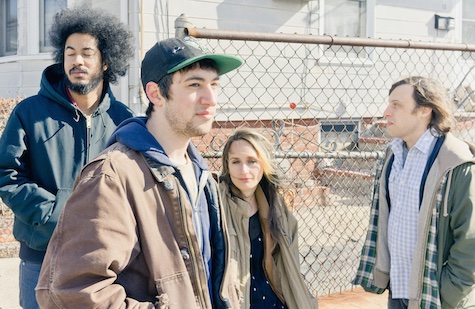 Speedy Ortiz plays tonight at The Slowdown.
by Tim McMahan, Lazy-i.com
That headline is a like a movie trailer that gives away the whole movie, except there are little bits and pieces missing that you must know to enjoy your weekend.
First in line is Speedy Ortiz at The Slowdown tonight. You read the interview with Sadie Dupuis on Wednesday, right? You didn't? Well what are you waiting for? Tour mates Spacemoth is a tuneful post-punk project by Maryam Qudus. Their latest, No Past No Future, was released last year by Wax Nine Records, and is just dandy, as the kids say (They say that, right?). Omaha Girls Rock product UN-T.I.L. opens this show at 8 p.m. and is definitely worth getting there on time for. This one's tonight in the front room and will run you $20. See you there.
Also tonight, Brooklyn alt rock band Slothrust headlines at Reverb Lounge. They came through town back in 2019 (at O'Leaver's!) and just dropped a new album last month called I Promise (on Dangerbird Records) that further galvanizes their cred as the second coming of Garbage. It's just a matter of time before alt-rock stations discover a banger like "Maybe Maybe" and ascend Slothrust to FM stardom (if such a thing exists anymore). Fellow Broolynites Pronoun (self-proclaimed emo-pop auteur Alyse Vellturo) opens the show at 8 p.m. $20.
Tomorrow night (Saturday), Omaha punk power trio Bad Bad Men headlines at Reverb for their final show of 2023. Two KC bands join them — The Utilitarians (w/Omaha's Billy Guifoyle on drums) and Dan Jones & The Squids (with Season to Risk's Steve Tulipana on bass). 8 p.m., $10. Come on, go to the show. The last thing you need to do is stay at home and watch the Huskers lose again.
Finally, Sunday night sees the return of Township & Range (featuring the talented Travis Sing), with Willoughby (Corey Stroud of 89.7 The River). But opening the gig is none other than the legendary Fizzle Like a Flood, one of my all-time favorite local singer/songwriters who the dang lemmings at Saddle Creek Records should have signed back in 2000. Will Doug play "Believe in Being Barefoot"? Show up at 7 p.m. at Reverb Lounge (this is an early show) and find out. $10. 
And that's all I got. If I missed your show, put it in the comments section. Have a great weekend.
* * *
Read Tim McMahan's blog daily at Lazy-i.com — an online music magazine that includes feature interviews, reviews and news. The focus is on the national indie music scene with a special emphasis on the best original bands in the Omaha area. Copyright © 2023 Tim McMahan. All rights reserved.