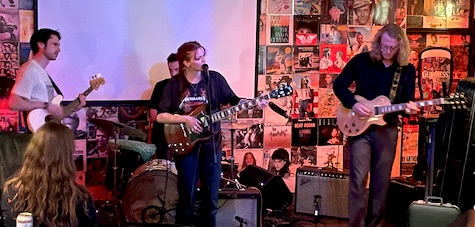 by Tim McMahan, Lazy-i.com
A friend of mine met me at O'Leaver's last Friday night for the Scout Gillett set. The show was scheduled to start at 10 p.m. with Anna McClellan, but by the time I arrived a little after 10, McClellan had already wrapped up her set, so they must have moved her start time.
There was my friend with his beer. While I hadn't been to O'Leaver's in at least six months or more, he hadn't been there in a number of years.
"Were those booths there before?" he asked, pointing at two sets of black leather booths installed along the south wall, directly in front of "stage right." No, those are new, at least new post-Covid, when O'Leaver's changed their business plan to become more of a burger joint and less of a rock club. 
"What's with the projector screen behind the band?" he asked. I told him once upon a time, O'Leaver's installed a big screen TV that was behind bands, and then created some sort of cover-up for it and then took it down. Now it appears they're using a projection TV and no longer lift the screen, giving the staging area an office party vibe. Not sure why they'd leave the screen down unless they were watching the women's Final Four game before the set and forgot to close it. 
The wall of electronic candles also was new, as were a couple beer signs I didn't recognize, and every so often someone would emerge from where the Tiki Bar used to be with baskets of French Fries, but all in all, O'Leaver's hadn't changed much. I told my friend how despite its tiny size and lack of a real stage The Club used to be one of the most important — and fun — places to see a band, and some pretty remarkable bands at that. 
You can still relive some of those crazy O'Leaver's nights at http://www.liveatoleavers.com, where high-quality soundcloud files of sets are still stored and playable online, including by bands like Johnathan Rice, Xetas, Head of Femur, Dolores Diaz & the Standby Club (Conor Oberst project), Speedy Ortiz, Cursive, Bob Log III, Orenda Fink, Mike Schlesinger, Simon Joyner, Matthew Sweet, Iska Dhaaf, Digital Leather and tons more. 
Anyway… Scout Gillett and her band kicked off their set at around 10:30. Playing as a four-piece, the Brooklyn crew sounded more straightforward and less hazy and moody than what's heard on their delectable No Roof No Floor (Captured Tracks) album, more like a bar band than shoe-gazers, surrounded by around 30 people in the half-filled club as the Iowa women's team celebrated their Final Four victory on the overhead TVs. 
The highlight was Gillett's lead guitarist, whose name I didn't catch and who isn't listed on her Bandcamp page. He played some soaring fills and solos over a band that you could tell has the fire power to fill a big stage when/if the situation calls for it, unlike Friday night when a more subdued rhythm section was the state of play. At one point late in the set Gillett walked through the main floor area playing her guitar, the only thing missing was a basket of Fries. 
O'Leaver's has yet another show coming up May 6 with David Nance & Mowed Sound and French rockers En Attendant Ana. Oui Oui!
. 0 0 0 .
Pageturners has another of their sneaky Monday night shows tonight with Chicago singer/songwriter Maria Elena Silva. "Sweet, spacious songs sung in English and en español that evoke endless prairie," says the Viking Choice Guide to Bandcamp 2021.  Omaha ambient artist Phill Smith opens at 8 p.m. $10 suggested donation.
* * *
Read Tim McMahan's blog daily at Lazy-i.com — an online music magazine that includes feature interviews, reviews and news. The focus is on the national indie music scene with a special emphasis on the best original bands in the Omaha area. Copyright © 2023 Tim McMahan. All rights reserved.