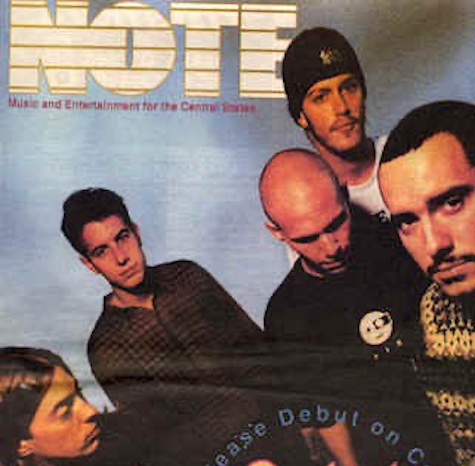 311 circa 1993. The band plays tonight at The Astro Amphitheater.
by Tim McMahan, Lazy-i.com
Get ready for the last hot weekend of the year…
Over at The Waiting Room tonight, Oklahoma City noise band Chat Pile headlines. A metal band at their core, I usually wouldn't mention them on this blog, but there are times when something beyond the usual goon-rock growling slips through in their recordings that makes me think they might actually have a sense of humor. Frontman Raygun Busch is at his best on tracks like "grimace_smoking_weed.jpeg" and "Mask," where he vacillates between spoken word and screaming over rhythm-heavy head banging, reminscent of Ross Farrar (Ceremony) or our old pal Tim Moss (Ritual Device). Their latest single was released on metal label The Flenser. Heavy stuff. Nerver and Nightosphere also are on the bill. $25, 8 p.m.
Meanwhile, tonight The Astro Amphitheater kicks into high gear with 311. I am shocked (shocked!) that this concert has not sold out… yet. Listen, since the band got its start in the early '90s, there has been a love/hate relationship with the Omaha music scene. I've always thought part of the animosity stemmed from their success prior to moving to Van Nuys (or wherever they live in California these days).
That animosity is captured in this 1993 cover story from The Note with the headline: "Sometimes it Pays to be an Asshole," which you can still read online right here.
My take: They are/were a talented bunch of dudes, that SA was a better frontman that Nick, that P-Nut really can "beat that thang." In recent years, drummer Chad Sexton has been under fire for being associated with various online right-wing conspiracies, which is more of a lessen about keeping your bandmates off social media. Do I listen to their music? No. But I did have fun at one of their Ranch Bowl shows around the time that article was published, or as the article goes:
I asked the guy next to me what he thought of the band. "I hate this kind of music," he yelled, hurting my ear. "but I've got to admit, this is a blast."
I wish them only the best. I hear Nick is now a part owner of the Omaha Union soccer club. AWOLNATION and Blame My Youth also are on the bill. 7 p.m. start time? Tickets range in price from $49 to $129 (and higher for VIP stuff). More at The Astro website. The Astro keeps its momentum front and center with The Gaslight Anthem tomorrow night.
Also tonight, local band Fox headlines at Reverb Lounge with Peach Paw and Matt Whipkey (joined on stage with guitarist extraordinaire Mike Friedman). $7, 8 p.m.
That's not all. Tonight over at B-Bar, 4330 Leavenworth, NYC guy from Omaha, Stathi, is playing a "home team gig" that starts at 8 p.m. No price listed.
Pickings are much slimmer Saturday. The only show on my radar is Mesa Buoy at Pageturners Lounge. Mesa Buoy is a project led by guitarist James Schroeder, whose Covid-era debut album featured a plethora of the city's finest talent including Kevin Donahue, Patrick Newberry, Megan Siebe, Colin Dockworth and Michael Overfield. Leaves Brown also is on the bill and the show is a benefit "to support Kupo's daughter," so no cover but $10 donation is suggested. Starts at 8 p.m.
Finally, Sunday is the annual Porchfest event held in the Gifford Park neighborhood at 33rd and California streets. The event is as it's described — a series of performances hosted on porches throughout the neighborhood, but also with the Omaha Mobile Stage set up at Yates Illuminates. Every year the schedule and assortment of acts gets more diverse. This year includes Las Cruxes, Mitch Gettman, B.B. Sledge and a ton more. The full schedule and details are available at the Porchfest website.
And that's all I got. If I missed your event, put it in the comments section. Have a great weekend.
* * *
Read Tim McMahan's blog daily at Lazy-i.com — an online music magazine that includes feature interviews, reviews and news. The focus is on the national indie music scene with a special emphasis on the best original bands in the Omaha area. Copyright © 2023 Tim McMahan. All rights reserved.
No Comments »
No comments yet.
RSS feed for comments on this post. TrackBack URL
Leave a comment