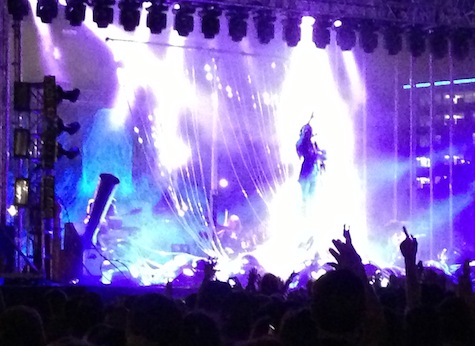 by Tim McMahan, Lazy-i.com
Flaming Lips' 2002 album Yoshimi Battles the Pink Robots is a ubiquitous indie moment from a band that had already been around for nearly 20 years, an album that itself is now 21 years old. It's also clearly the band's most "pop" moment and most successful release, selling more than 500,000 copies according to Nielsen SoundScan. Single "Do You Realize?" — once the "official rock song of Oklahoma" — was written by frontman Wayne Coyne as a reaction to seeing fellow band member Steven Drozd suffer from heroin withdrawal, and for my money by itself is worth the price of the album… and a ticket to tonight's performance at Steelhouse Omaha.
If the show is anything like Tuesday's gig at Riverside Theater in Milwaukee (setlist here), expect them to run through the entire album followed by a 10-song second set that includes really their only other hits, "She Don't Use Jelly" and "Race for the Prize" from 1999's The Soft Bulletin, as well as a cover (They did Madonna's "Borderline" in Milwaukee). All followed by a three song-encore. and upchuck-inducing recording of Louis Armstrong's "What a Wonderful World."
No doubt it will be a spectacle as Coyne is nothing if not a showman (Get out those confetti cannons!) If you're wondering what you're in for, check out my review of Steelhouse Omaha that was published in the current issue of The Reader (also below). For many indie fans, this will be their first venture into the facility. My advice – stand up and enjoy the ride (cuz there ain't no seats).
You can purchase directly from the Steelhouse website for as low as $50. Starts at 8:30 p.m. 
And that, my friends, is about it for the weekend. Nothing worth mentioning at 1% venues and Slowdown is in CWS mode. If I missed your show, put it in the comments section. Have a great weekend.
. 0 0 0 .
First published in The Reader, June 2023:
A Killer of a Grand Opening
Steelhouse Omaha Is a Testament to the City's Resolve
Although still fresh in most of our memories, we have to acknowledge what we were about to face in November 2019 when Omaha Performing Arts (O-pa) announced the yet-to-be-named, $109 million project that would become Steelhouse Omaha.
The idea of a world-crippling pandemic was the last thing on anyone's mind at the time. That would come a few months later, in March 2020, when COVID-19 became the center of everything, shutting down our world and the music industry with it.
O-pa's plan suddenly seemed like a fool's dream — no one knew what was going to happen with the pandemic. At the same time, the project was a beacon of hope, assurance that somehow we'd get through all the sickness and death, that O-pa and its patrons must know something or they wouldn't hold onto a commitment to build a facility designed to host a crowd of 3,000 like a herd of cattle, standing shoulder to shoulder in a windowless, confined hall – the absolute last place anyone would want to be in the middle of an airborne-spread health crisis.
And yet, here I was, three-and-a-half years later, COVID-19 much less threatening, standing in a security line next to a bank of search lights on the night of Steelhouse Omaha's grand opening, waiting to dive head-first into a maskless crowd. Ain't humanity amazing?
Located at 11th and Dodge, only a stone's throw from the Holland Performing Arts Center, Steelhouse is destined to become a landmark for live music. From the ground up, it is an ultra-modern concert hall that appears to have erupted right out of the concrete in downtown Omaha.
For its May 12 grand opening, booking The Killers – a band that usually plays 20,000-seat arenas — was like learning to swim by being tossed into a deep, dark lake. Tickets sold out in minutes. I guess if you're going to pressure-test the system, do it right out of the box.
To O-pa's credit, Steelhouse passed the hospitality portion of the test with flying colors, thanks to a massive phalanx of smiling, crew-shirted staff at every turn. No gruff, overworked bouncers here — all these folks looked like they were having a good time. After walking through the lobby with its large merch and bar/concessions areas, I bee-lined to the main hall — cram-packed with T-shirt-clad fans holding plastic cups.
First impressions: Wow, this is big and wide open. Concession stands were built into the walls on each side of the hall and in the back – they were everywhere. Even with a sold-out crowd, I had no problem buying my $13 pint of mango wheat beer. All purchases were cashless, so if you go, grab your credit card and ID and leave your wallet at home.
Now with beer in hand, things got tricky. The main floor was already crush-full. I stepped into the mass of humanity a couple of times just to check out the sight lines. Instead of being sloped, the standing-only floor area seemed flat, but the stage was raised high enough so sight lines would be a problem only for the most height-challenged fans.
Somehow, I ended up standing on one of the elevated decks along stage right, where I noticed a guy manning what looked like a battery of cannons.
"Confetti cannons?" I asked. He nodded, smiling. "When will those go off? At the beginning? At the end?"
"All night," the guy said. "The Killers love their confetti."
We all discovered this shortly after 8 p.m. when the band took the stage and – bamf! — off went the cannons in a glittering cloud of paper as The Killers slammed into their opening number. And the crowd, as they say, went wild.
The room sounded pretty good overall, if a bit tinny and oversaturated on the high end. Volume was even throughout the facility. The arsenal of lighting was impressive, as was the giant backdrop video that augmented every song. It was as if The Killers had brought a Las Vegas stage show to Omaha (because they sort of did).
The challenges began when I turned around to make my way to the back of the hall. People were smashed all the way across the aisles, requiring that I shoulder my way against the current of flesh. Still, I never felt trapped. The main auditorium is designed with large exit doors that open into a secondary lounge where the bathrooms are located, then into a large patio area — both nice touches and places to escape to when you feel overwhelmed by the sound and noise.
Later that weekend, I returned to the Steelhouse Open House to get a look at the facility without all the people, and yes, all the metal and concrete did feel rather sterile in the cold light of day. But you go for the rock show, not the feng shui.
That evening The Killers slammed through one song after the next, never slowing down and only briefly acknowledging that they had the honor of playing the grand opening. "We've been asked to christen The Steelhouse," frontman Brandon Flowers yelled."Usually we're asked to blow the roof off the place!"
Not tonight. All in all, the grand opening felt like a success for Steelhouse and for a city that somehow soldiered through a catastrophe and found music on the other side.
Over The Edge is a monthly column by Reader senior contributing writer Tim McMahan focused on culture, society, music, the media and the arts. Email Tim at tim.mcmahan@gmail.com.
* * *
Read Tim McMahan's blog daily at Lazy-i.com — an online music magazine that includes feature interviews, reviews and news. The focus is on the national indie music scene with a special emphasis on the best original bands in the Omaha area. Copyright © 2023 Tim McMahan. All rights reserved.
No Comments »
No comments yet.
RSS feed for comments on this post. TrackBack URL
Leave a comment