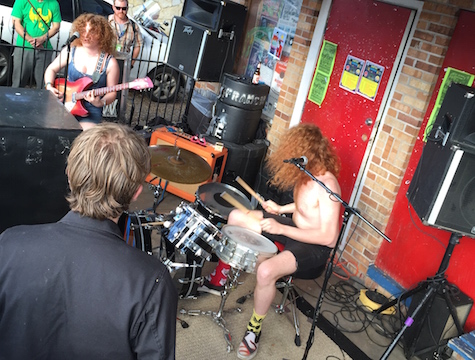 by Tim McMahan, Lazy-i.com
Flipping through Lazy-i for #ThrowbackThursday I came across this entry, published eight years ago, that compiled three days of South by Southwest 2015 reporting in three podcast episodes that captured descriptions and performances by White Mystery, Twin Shadow, Speedy Ortiz, PUJOL, Laura Burhenn, Icky Blossoms, Viet Cong, Krill, Natalie Prass, Courtney Barnett, Best Coast, LITE, Drivin' and Cryin', The Residents, The Pop Group and Will Butler, along with photos from each performance. 
Eight years ago I was first experimenting with podcasting, having caught the bug from listening to the Serial Podcast, and if you dig around Lazy-i you'll find podcast episodes embedded into entries that captured local and national performances on Omaha clubs along with interviews from around Omaha. The weekly podcast, which summarized my week of Lazy-i reporting and the shows I went to that week, was fun to produce, but I did the whole damn thing by myself with semi-professional audio equipment using Garageband for editing – what a grind!
Now eight years later, it's a running joke that everyone has their own podcast. In fact, Emmy winning series Hulu's Only Murders in the Building is a series about a podcast. As more of my free time opens up in the coming year(s), I'd like to do another podcast, but this time with some help!
The podcast never had huge listener numbers – somewhere between 200 and 300 per episode spread out across numerous hosting platforms, including iTunes, Libsyn and Soundcloud – podcast hosting was not easy back then. Considering I was using a hand-held Zoom H2 recorder and MacBook with no sound mixing or mastering, it didn't sound half bad, especially the live recordings. Who knows how this would have sounded had an audio engineer been involved… 
Anyway, check out the post for all the photos or just listen below:
Day 1: Performances by White Mystery, Twin Shadow, Dotan and Speedy Ortiz.
Day 2: Performances by PUJOL, Laura Burhenn (Mynabirds), Icky Blossoms, Viet Cong, Krill and Natalie Prass.
Day 3: Performances by Courtney Barnett, Best Coast, LITE, Drivin' and Cryin', The Pop Group and Will Butler.
* * *
Read Tim McMahan's blog daily at Lazy-i.com — an online music magazine that includes feature interviews, reviews and news. The focus is on the national indie music scene with a special emphasis on the best original bands in the Omaha area. Copyright © 2023 Tim McMahan. All rights reserved.
No Comments »
No comments yet.
RSS feed for comments on this post. TrackBack URL
Leave a comment