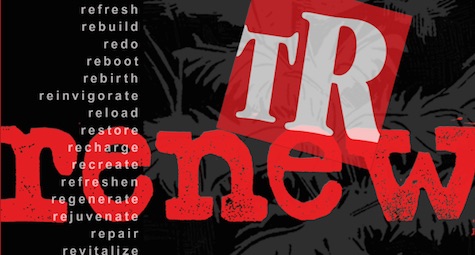 by Tim McMahan, Lazy-i.com
I'm as curious as you are about what the "new" Reader will look like. I haven't a clue what we're going to see when publisher John Heaston and his team reveal the new design down at Sokol Underground at 3 p.m. this afternoon. It will no doubt be the beginning of a new era for a publication that's survived as a weekly for the past 20 years.
Heaston also will be unleashing a new version of thereader.com. I've seen it and it is, indeed, an improvement over the current website, though it should be stressed that the new web design is only V 1.0, and that John says we'll see even greater improvements in design and functionality in the near future.
Anyway, you're all invited to the big reveal from 3 to 6 p.m. today. In addition to free copies of the new publication there will be free tacos, (some) booze and what's been described as a "20 Year Maze" that walks people through the past 20 years of The Reader. No idea what this is, but it should be plenty weird.
If that wasn't enough to set your curiosity ablaze, this first issue of the newly designed Reader will contain my annual Music Predictions for the Coming Year article — always a real crowd-pleaser.
See you this afternoon at Sokol Underground…
* * *
Read Tim McMahan's blog daily at Lazy-i.com — an online music magazine that includes feature interviews, reviews and news. The focus is on the national indie music scene with a special emphasis on the best original bands in the Omaha area. Copyright © 2014 Tim McMahan. All rights reserved.
No Comments »
No comments yet.
RSS feed for comments on this post. TrackBack URL
Leave a comment