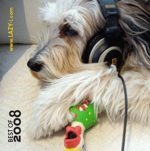 You'll never have a better chance of winning a one-of-a-kind hand-made collectible Lazy-i "Best of…" sampler CD than this year. I guess all my talk about people giving up on CDs has translated into the low number of entries for the 2008 comp giveaway — and no, it's not a question of declining readership, as hits to the site are at the same robust level that they've been at for years. Hey, maybe people think the track listing sucks? Not likely, not with artists like UUVVWWZ, McCarthy Trenching, The Faint, Conor Oberst, Deerhunter, David Byrne/Brian Eno, Silver Jews, Neva Dinova, Tilly and the Wall, Tokyo Police Club, Titus Andronicus, M83, Jenny Lewis, Brad Hoshaw and Talking Mountain (among others). Check out the full track listing yourself, then send me an email (to tim@lazy-i.com) with your name and mailing address. Hurry. Deadline is Saturday, Jan. 17.
Tomorrow, Part 2 of Visions of '09 (Read the controversial Part 1 here).
–Got comments? Post 'em here.—
No Comments »
No comments yet.
RSS feed for comments on this post. TrackBack URL
Leave a comment