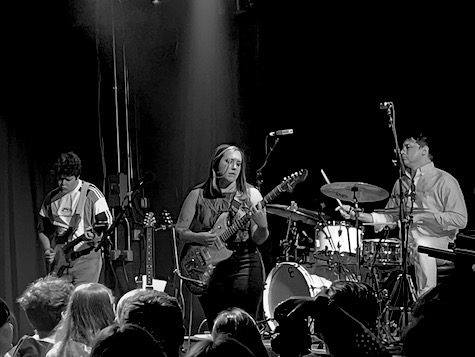 Soccer Mommy at The Waiting Room, Aug. 8, 2023.
by Tim McMahan, Lazy-i.com
If Phoebe Bridgers is truly the "saddest factory," then Soccer Mommy is the queen of mid-tempo bummers. Playing to a crowded but far from sold out Waiting Room last night, Soccer Mommy a.k.a. singer/songwriter Sophie Allison and her band, pulled out one mid-tempo bummer after another, and it was sadly, sweetly satisfying. 
Allison's band was first rate – two guitarists (one pulling double-duty on keyboards) and a killer rhythm section, they were at their best when everything shimmered in a shoe-gaze haze. At the center of it all was Allison's sweet, clear, hang-dog vocals that made every song sound like the morning after. She even turned Sheryl Crow's feel-good summer pop-song "Soak Up the Sun," into her very own bummer anthem. 
The set list pulled heavily from her latest album, Sometimes, Forever, but included plenty from her catalog, from "Circle the Drain" to the stark "Darkness Forever," where the band was given room to stretch out. Toward the back half of the set, Allison dispatched the band for a solo rendition of early chestnut, "Still Clean," that placed a spotlight squarely on that sweet voice, that yes, was reminiscent of Sheryl Crow, though much more forlorn. 
The night's best moments came during the two-song encore, where the band ripped into her biggest hit, "Your Dog," that finally got the crowd moving. It was followed by rocker "Don't Ask Me," which cast shades of early Bettie Serveert — pure '90s indie rock.  Leaving the hits for the encore is probably the oldest trick in the rock 'n' roll handbook, but I couldn't help but wonder how different the evening would have gone if they started their set with these two rippers.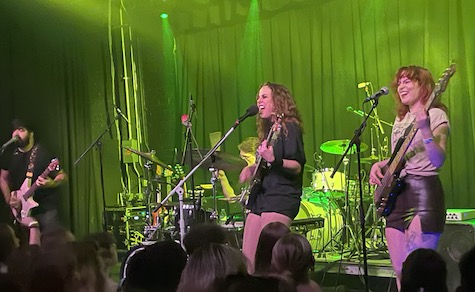 Pool Kids at The Waiting Room, Aug. 8, 2023.
Opening band Pool Kids was the first female-fronted emo band I've seen in a long time (and by "emo," I mean the more recent Fall Out Boy/Thursday/"emo night" version). Fronted by vocalist Christine Goodwyne, the band leaned more into alt-rock than indie, thanks to her high-flying rock delivery. Say what you will, but the crowd looked like they were having a lot more fun during Pool Kids' set…
. 0 0 0 .
Austin's Temple of Angels just released their debut full-length, Endless Pursuit, last month on Run for Cover Records (Runnner, Young Guv). The record is a collection of chiming, dreamy rock songs that sound like a cross between The Church, trippy Cure and The Sundays, with a nod to The Chameleons, who they reference on their one-sheet. 
The band plays tonight at Reverb Lounge with one of my favorite locally connected acts, Nathan Ma Band. Unfortunately, there are two more bands on tonight's bill — The Dirts and Western Haikus — which makes this a four-band bill on a school night – come on, guys. Starts at 8 p.m., $17. Worth it if you don't have a job to go into the next morning.
* * *
Read Tim McMahan's blog daily at Lazy-i.com — an online music magazine that includes feature interviews, reviews and news. The focus is on the national indie music scene with a special emphasis on the best original bands in the Omaha area. Copyright © 2023 Tim McMahan. All rights reserved.