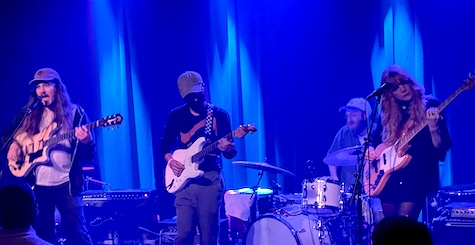 by Tim McMahan, Lazy-i.com
I used to love love love going to South By Southwest, if not for a chance to see both emerging and classic indie bands than as an escape from our crappy, cold weather here in Omaha. I attended four years in a row and saw some amazing acts, including The Oh Sees, Jesus and Mary Chain, PJ Harvey, Peter Murphy, Glen Hansard, Big Star, Bob Mould, the list goes on and on, not to mention a lot of local talent that made the trip to Austin either on their own (Digital Leather, Little Brazil) or as part of a Saddle Creek Records showcase.
Saddle Creek, by the way, is back at SXSW again this year, doing a joint a showcase with Sub Pop and Hardly Art, happening tonight at my favorite SXSW venue, Mohawk. Creek bands playing are Young Jesus, Pendant, Tomberlin and Indigo De Souza. I would definitely have gone to this showcase had I attended this year.
Who else would I have seen? Well, top of the list is an LA band called Blondshell, which I'm noticing now is emerging on the top of a lot of people's list. Both NME and Brooklyn Vegan list Blondshell, a.k.a. Sabrina Teitelbaum, as a must-see act. The reason is the release of the band's self-titled debut April 7, which includes tracks previously release on an EP that already is on my list of favorite releases of 2023. Teitelbaum is the first artist to emerge in the past decade with both a tunefulness and lyrical honesty that rivals Liz Phair during her Guyville days. Needless to say, her tour isn't taking her to Omaha, but I've already purchased tickets for her 7th Street Entry show in Minneapolis in July (my first travel gig).
That's the standout. Also on the list is Tacoma's Enumclaw, Chicago post-punk act Lifeguard, Matador rock band Algiers (who will never come to Omaha, I guess), legends New Order and Tangerine Dream and The Oh Sees (again).
The only uncertainty about going to SXSW is rolling the dice when it comes to the weather. When it's warm and sunny in Austin, it's heaven. Unfortunately, the forecast calls for rain today and highs the rest of the weekend only in the 50s and 60s. Dang! It's still better than what we're going to have here this weekend.
. 0 0 0 .
We've got our own indie show going on tonight right here in Omaha. Former local band Thick Paint returns to Reverb Lounge (hey, weren't they here one year ago on this very day?). What have they been up to since then? Find out tonight. Joining them is Detroit band Summer Like the Season. Omaha's own Masonjixx headlines. DJ Hair Brain opens at 8 p.m. $15.
* * *
Read Tim McMahan's blog daily at Lazy-i.com — an online music magazine that includes feature interviews, reviews and news. The focus is on the national indie music scene with a special emphasis on the best original bands in the Omaha area. Copyright © 2023 Tim McMahan. All rights reserved.