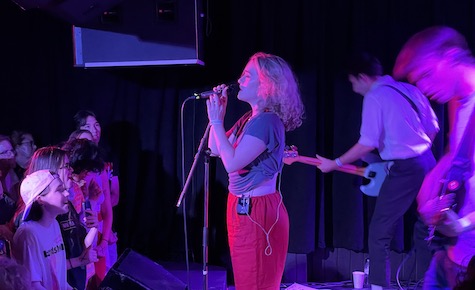 Blondshell at 7th St. Entry, July 11, 2023.
by Tim McMahan, Lazy-i.com
When you think of First Avenue and 7th St. Entry what immediately comes to mind is the iconic club scenes from Prince's Purple Rain; this venue was voted among the top 3 in the country (according to their signage). But that's First Ave you're thinking of, not 7th St. Entry. 7SE is a tiny shithole of a venue located in the same building as First Avenue, and really that's its only connection.
That said, the room wasn't without its charm. After showing your ticket you pass through a thick velvet curtain into a room that is shockingly small, with a small bar tucked into one corner adjacent to a tiny stage. The all-black room feels like it slopes down to the stage, but that may just be an illusion. Capacity couldn't be more than 100 (wiki says it's 250, but that cannot be right), though there were at least 150 in there last night.
Knowing the show had sold out, we purposely arrived late to cut down on the amount of time we'd have to suffer in what I assumed (correctly) would be a crush mob of people in a tiny space. In the end, it didn't matter because the opening act, an NYC trio called Hello Mary, started 45 minutes late — which meant standing in the hot hellhole of a stink zone for a half an hour, shoulder-to-shoulder, listening to a drone pre-set track on the PA. It was ungodly uncomfortable, and I started to consider skipping the gig altogether except for the fact that we were literally surrounded by people who were years (decades) older than us who were gutting through the experience. Here I thought I'd be the oldest person in the room. Whoda thunk that Blondshell would attract such a geriatric audience?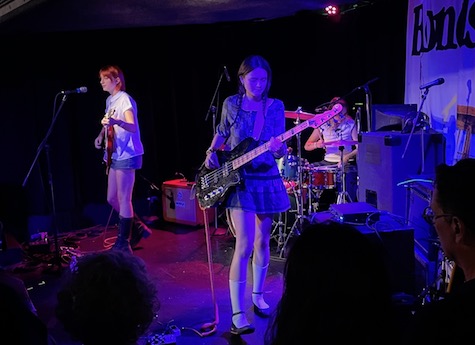 Hello Mary at 7th St. Entry, July 11, 2023.
Well, just before giving up, on came Hello Mary. As shabby as 7SE is as a club, the sound was pristine, driven in part by a talented band of players who really knew their way around their instruments, especially the rhythm section. The bass player, Mikaela Oppenheimer, was particularly awesome, working her hands up and down the fretboard, all the time looking bored out of her skull. Maybe it was because of the songs, which were pure '90s indie girl rock (everything from The Spinanes, Squawl to Helium came to mind) powered by That Dog-style vocal harmonies between guitarist Helen Straight and drummer Stella Wave. Despite going on 45 minutes late, the band played an excruciatingly long set, which only got better the longer it went.
After a quick equipment swap out, on came Blondshell, playing as a four-piece with frontwoman Sabrina Teitelbaum standing alone instrument-less, behind the microphone backed by a super-tight band that had me thinking they must be hired studio musicians who've come in to handle the tour or who played on the record. You never got a sense that they're actually her band, though they killed on every note of these hook-filled indie tunes. I wish I could tell you Teitelbaum did as well. Throughout the set, her vocals were a mere facsimile of what's heard on the album, which is a studio-produced masterwork. Live, the voice is there but it's nowhere near as powerful.
What Teitelbaum does have is a solid set of songs, which the crowd spent most of the set singing back to her. While most of her album is downcast, she wisely brightened the set with a couple covers, including a tasty take on Le Tigre's "Deceptacon." The night's highlight was a sterling rendition of "Kiss City," the best performance of the night, though she struggled to pull off the high notes during the song's intense last chorus. Don't blame road fatigue; this was only their third night.
Despite a luke-warm performance in a smelly, tiny venue, the trip was worth it if only to say I've been to this legendary club next to the one Prince made famous.
* * *
Read Tim McMahan's blog daily at Lazy-i.com — an online music magazine that includes feature interviews, reviews and news. The focus is on the national indie music scene with a special emphasis on the best original bands in the Omaha area. Copyright © 2023 Tim McMahan. All rights reserved.