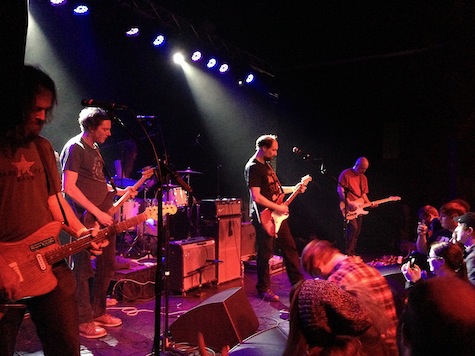 by Tim McMahan, Lazy-i.com
Onward to the weekend…
It starts tonight with Benson First Friday (#BFF), featuring a world of art all along Maple Street. If you're going, stop by Ming Toy Gallery 6066 Maple St., and check out the opening for John Dennison featuring nearly 30 of his amazingly weird stoneware masks. Hours are 6 to 9 p.m. Pop in and say hi.
Afterward (if it's late) head on down to The Sydney in Benson for a three-band bill featuring Omaha electronic psychobilly legend Solid Goldberg a.k.a. Dave Goldberg, whose one-man show is a work of art. Also on the bill is Omaha trip-hop act ZUNEG and the Doom Choir and Chicago's Baron Von Future. $10, 9 p.m. 
Another show tonight, this one with a Cinco de Mayo flair, is a five-band bill headlined by Las Cruxes with bands Glue, Trees with Eyes, Kansas City band Oxytoxin and Frog is in the Rain. They're calling it Cinco de Mayo at Razor Wire Productions, 1808 Vinton Street. No cover, but donations suggested. All ages, with the first band starting at 6:30 p.m.
Saturday night it's back to fabulous O'Leaver's for David Nance and Mowed Sound. Nance is hands down the best psych garage rock band from 'round these parts. He releases his stuff on Trouble in Mind Records, and will be opening for label mates En Attendant Ana, an electric folk rock band from Paris. Not to be missed. $10, 9 p.m. 
Also Saturday night, our indie rock friends from the PNW, Built to Spill, return to The Waiting Room.  They're out touring When The Wind Forgets Your Name, their 2022 self-release LP that's a real return to form for a band that's been kicking around for a couple decades. Opening is Albuquerque quartet Prism Bitch and Spokane punk glammers Itchy Kitty. That's a lot of rock for $30. Starts at 8 p.m. 
. 0 0 0 .
Hey, did I mention it's also Bandcamp Friday? This is the best day to buy music online from your favorite artists because Bandcamp is waiving their fees (and some labels do, too), which means all the money goes to the artists.  Here are my "picks of the litter" of local releases for consideration of your hard-earned rubles:
Matt Whipkey is back with a tribute to The Beatles' Rubber Soul album called Gummi Soul: Another Rubber. Backed by members if his old band, The Movies, Matt has created a complete "reimagining of every song from the Beatles iconic 1965 LP." Among them, the track below, "Michelle," mixed by Stephen Hague (producer of Pet Shop Boys, Pere Ubu, New Order among others) and featuring Omaha legend Stephen Sheehan (Digital Sex, The World, Between the Leaves) on lead vocals. Pre-order here, and check out the album release show next Saturday at The Jewell.
The man who needs no introduction, Dereck Higgins, is joined by trumpet player Blake DeForest and guitarist Cubby Phillips on The Muse, a 15-track jazzy, ambient journey that during its quieter times reminds me of Pat Metheny. Buy the CD here.
Not local, but with local ties — No Coast is a  record label run by former Omahan Bobby Hussy. His new project is called Wristwatch, and they're dropping their new album, II, next week. You can preorder it here.
That's all I got. If I missed your show, put it in the comments section. Have a great weekend.
* * *
Read Tim McMahan's blog daily at Lazy-i.com — an online music magazine that includes feature interviews, reviews and news. The focus is on the national indie music scene with a special emphasis on the best original bands in the Omaha area. Copyright © 2023 Tim McMahan. All rights reserved.
No Comments »
No comments yet.
RSS feed for comments on this post. TrackBack URL
Leave a comment