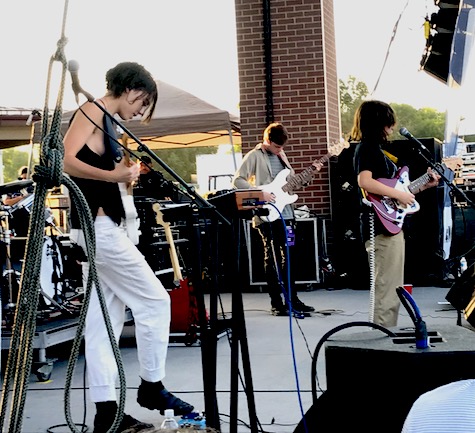 by Tim McMahan, Lazy-i.com
Busy weekend!
It's the first Friday of the month and that means Benson First Friday! Benson turns into an urban walking art gallery with art openings happening all up and down Maple Street, not the least of which is the opening at Ming Toy Gallery, 6066 Maple St., where Brian Tait has a one-man show. Tait is one of my favorite Omaha artists, with a style that combines street art and abstract, strange, colorful and pure pop. The show runs from 6 to 9 p.m. and refreshments will be available. Come by and say hi.
Later tonight down at The Sydney it's a 3-band bill headlined by Those Far Out Arrows, with Healer (Dan Brennan's band that recently opened for Protomartyr at Slowdown) and Jack. $10, 9 p.m.
Tomorrow night (Saturday) there's a pair of Matador Records bands playing at The Slowdown. The headliner is Baltimore's Snail Mail a.k.a. Lindsey Jordan whose debut album, 2018's Lush, was loaded with dreamy indie pop reminiscent of The Sundays and was an out-of-nowhere smash (and at the tender age of 17). Her follow-up, 2021's Valentine, is harder and more mature but no less infectious, earning a massive 8.5 on the Pitchfork meter and "Best New Music" accolades. Maybe you remember them playing the 2019 Maha Festival? Joining Snail Mail Saturday night is lablemates Water from Your Eyes, who I wrote about earlier this week. Richmond, Virginia, old-school power pop band Dazy opens the show at 8 p.m. This one's in the big room. $30.
Also Saturday night, The Sydney is hosting hard punk band Nowhere, Flooding and Omaha prog duo Pagan Athletes. 9 p.m., $10.
BTW, it's Bandcamp Friday, so if you were thinking of buying any new music (or old music for that matter) Bandcamp is waiving its fees as it does every first Friday of the month, so do it now.
That's all I got. If I missed your show, put it in the comments section. Have a great weekend.
* * *
Read Tim McMahan's blog daily at Lazy-i.com — an online music magazine that includes feature interviews, reviews and news. The focus is on the national indie music scene with a special emphasis on the best original bands in the Omaha area. Copyright © 2023 Tim McMahan. All rights reserved.
No Comments »
No comments yet.
RSS feed for comments on this post. TrackBack URL
Leave a comment