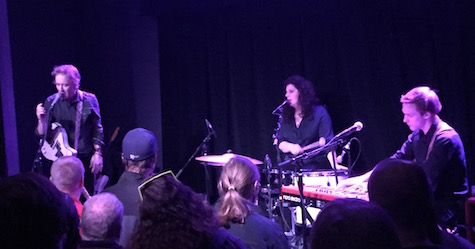 by Tim McMahan, Lazy-i.com
Walking into Reverb at just after 9:30 the show still wasn't sold out, but it was close. Only a few tickets remained, and they likely got sold before Low took the stage at 10 p.m. So yes, it was a sold-out show (probably). And easily the most crowded show I've attended at Reverb.
Once through the sound-room door I was met by a dense crowd watching as opening singer/songwriter Andy Shauf was seated performing his set with an acoustic guitar. His singing style was a cross between Elliott Smith and a hearing-impaired Russian sailor. At first I thought Shauf was singing in a different language, until I listened more closely and picked out a few familiar words in English, words like "love" and "death."
Still, I figured Shauf must be a visitor in our country, until he spoke between songs with a clear North American accent, which quickly disappeared as he began his next song, returning again to his affected, foreign, nasal croon. His songs were pretty, and I'll be checking out Shauf's recordings later (hopefully they're in English).
Low came on right at 10 — Alan Sparhawk standing with guitar stage right, bassist Steve Garrington stage left seated behind a keyboard, and Mimi Parker seated behind a trap set. Sparhawk and Parker have aged only a little since the last time I saw them play, about 10 years ago at Sokol Underground. Their pitch-perfect intertwining vocals still carry the same amount of heart-break and dread as they ever did.
The set-list was identical to what they played at First Ave. the night before (where they kicked off this leg of their current tour). "Monkey" from The Great Destroyer was an early set highlight, only surpassed by a dark, ominous version of "Pissing" (also off Great Destroyer) that built from Low's usual quiet stance to a crashing sonic nightmare that ended with Sparhawk screaming into his guitar pushed overhead against his face. Intense.
The majority of the set consisted of songs from new album Ones and Sixes (Sub Pop, 2015), including a rich take on album favorite "Lies." The new stuff sits seamlessly with the old stuff. Over the course of two decades Low has added more noise, more guitar, even pop-fueled moments (How else to describe the uptempo rock of "Part of Me," also off the new album?), but ultimately retained their patented "slowcore" style — stripped down, simple, stark and at times beautifully dreadful.
The only deviation from the First Ave. set was the encore. After a crashing version of "Landslide" (also from the new album), the band left the stage and came back for a two-song encore (instead of four the night prior) that included a gorgeous take on "Sunflower" (from Things We Lost in the Fire) and favorite "When I Go Deaf."
Startling stuff, enhanced by the fact that it was performed in such a small space. Maybe too small, as I spent the evening crushed against one of Reverb's new drink rails that are mounted along the stage-left wall, forced to shift from one foot to the other to see around a fat-headed dude standing in front me. Whattaya gonna do? Last night also was the first time that I noticed noise bleed coming from The Waiting Room, where Roger Clyne and the Peacemakers were playing — a steady thump-thump-thump that cut into the silent moments of Low's set. Sparhawk and Co. struck back as only they could — with the full force of their instruments during the encore, leaving me wondering if the poor saps at the Clyne show were getting a taste of what we were hearing…
* * *
After a couple solid shows this week, we're left with a pretty quiet weekend.
Tonight Stardeath and White Dwarfs headlines at The Sydney. The four-piece psych-rock band from Norman, Oklahoma, includes none other than Wayne Coyne's nephew Dennis Coyne on lead vox. Surf-rockers Sub-Vectors open. $10, 9 p.m.
Also tonight State Disco headlines at Reverb Lounge with AZP and Rothsteen. $10, 9 p.m. BTW, Reverb now hosts all-ages shows, if you didn't know (I didn't until last night).
Meanwhile, at fabulous O'Leaver's, it's Fitness 000010, featuring Bus Gas, Big Slur and Ridgelines. $5, 9:30 p.m.
Tomorrow night (Saturday) it's back to O'Leaver's for Christopher the Conquered, with Bazile Mills and Tenenbaums. $7, 9:30 p.m.
Also worth mentioning for you musicians , Hear Nebraska is hosting a free workshop called Protect Yourself and Your Music: Legal Advice for Musicians, Saturday afternoon from 1 to 2:15 p.m at the TipTop Building. U of N Law students will talk and take questions about such things as copyright law, licensing, contracts, streaming services, performance rights, in other words, all the things you should know if you're going to be a working musician. If friggin' free, so go! More info here.
Finally, indie-folk singer/songwriter Mason Jennings headlines at The Slowdown Sunday night. S. Carey opens. $27 Adv/$30 DOS. Starts at 8 p.m
And O'Leaver's ends the weekend with Fort Collins dream-pop band Sound of Ceres, along with The Sunks, Chalant and Little Ripple Sunday night at 9. $7.
That's all I got. If I missed your show, put it in the comments section. Have a great weekend.
* * *
Read Tim McMahan's blog daily at Lazy-i.com — an online music magazine that includes feature interviews, reviews and news. The focus is on the national indie music scene with a special emphasis on the best original bands in the Omaha area. Copyright © 2015 Tim McMahan. All rights reserved.
No Comments »
No comments yet.
RSS feed for comments on this post. TrackBack URL
Leave a comment