by Tim McMahan, Lazy-i.com
Nebraska's hardest working musician / DJ, Darren Keen,  was honored with a remix of his track "Higher" by Teklife's DJ Earl. The details are at Fact Magazine.
Who exactly is DJ Earl?
"The music I am making now is heavily influenced by a Chicago style of dance music called Footwork," Darren said. "The biggest, most famous crew is called Teklife. The two biggest DJ / producers they have are DJ Rashad and DJ Earl. DJ Rashad died this year. So DJ Earl is literally the biggest name in the genre of music I'm doing now. He's gonna be hella famous in a year."
Darren described "Footwork" as fast, triplet-based dance music. "Vice (the news website) described my sound as 'B-boy footwork being played out of a 3rd world boom box.' Sounds accurate."
Hear for yourself by checking out the track, here. BTW, Vice debuted a Darren Keen song just a few weeks ago, right here.
* * *
Catching up on some news from yesterday….
Desaparecidos let the cat out of the bag via social media when they posted a photo of an upcoming Epitaph comp cassette that features the band along with a handful of label mates. As stated, it was apparently made for last weekend's FYF Fest.  The track, "Anonymous," was released as a single by Desa last year.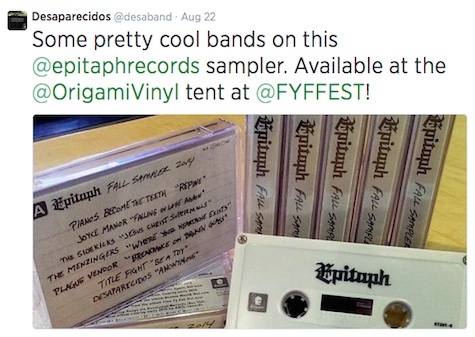 Conor gave a non-denial affirmation when asked about the band's relationship with Epitaph in our recent interview, published in June in The Reader:
The Reader: What's happening with Desaparecidos? I heard a new LP has been recorded and is coming out on Epitaph. With the demands of supporting your new solo album and tour, is that project now on hold?

Conor Oberst: We've been working towards a new full length. We hope to put it out next year at some point. It has been a blast playing with them again. I have to promote my new record and that takes time, but we are going to continue working on the Desa stuff as well.
Read the rest of the interview here.
* * *
Tomorrow's Future Islands show at The Waiting Room is now sold out. See you there.
* * *
Tonight's Hear Nebraska Live at Turner Park concert featuring Snake Island and Noah's Ark Was a Spaceship has been cancelled… again. Tonight's show was a reschedule from a date a few weeks ago that also got rained out. HN's Andy Norman is seeing if he can get yet another date for this bill.
* * *
See Through Dresses announced via Facebook they've been signed by the Germans at This Charming Man Records. "We're looking forward to working with them and they are releasing our full-length in Europe. Expect us over the pond next year!"
Just for fun, I plugged the TCM's announcement into Google Translate, which switched it up from German to English, in the usual clumsy fashion:
I am very pleased, See Through Dresses from Omaha, Nebraska to be able to welcome in the ranks of TCM. Hannes, his character drummer of Lost Girls and touring riders of Tim Kasher, contacted me a few months ago and sent me euphoric the current LP of four. Kaspers Tim raved well during his last tour in Germany neatly from the See Through Dresses -plate (as for me later turned out, the guitarist and singer of See Through Dresses to Kasher's "adult movie" album has appeared and participated in the complete tour ) and Hannes thought it was a nice idea if this quite excellent album would also appear in Europe. After the first run I was already hooked, excited after repeated listening.

I felt immediately added to the year 1995 – a Best Of the nineties Indies Sebadoh about Sonic Youth (eg "Pink Noise") and My Bloody Valentine … The sound is of course no new nuclear physics, ignites at me but mega hard – super hooks, sugar-sweet melodies, sadness and pathos something … these are the ingredients for the perfect Emo WetDreaM. And alongside the influences of the old world but you will also find traces of current bands, for example, Shout Out Louds – the singing of "Get Sick Again", Pains At Being Pure At Heart – "Glass" and the male / female vocals in General.

The self-titled and self-recorded debut album was released in an edition of 550 LPs out in the States and in the spring of 2015 with This Charming Man re-released. The band is touring Europe to match the album release in spring / summer 2015 For booking requests but please contact Hannes or write me a mail fix.
* * *
Speaking of See Through Dresses, they headline a show tonight at fabulous O'Leaver's with Minneapolis band Kitten Forever and Lincoln punk masters Once A Pawn. $5, 9:30 p.m.
Also tonight, Part V in John Klemmensen's ongoing Songwriter Death Battle series takes place at The Waiting Room. John hands his acoustic guitar off to a string of local singer/songwriters for one tune apiece. The action begins at 9. $7.
* * *
Read Tim McMahan's blog daily at Lazy-i.com — an online music magazine that includes feature interviews, reviews and news. The focus is on the national indie music scene with a special emphasis on the best original bands in the Omaha area. Copyright © 2014 Tim McMahan. All rights reserved.
No Comments »
No comments yet.
RSS feed for comments on this post. TrackBack URL
Leave a comment