by Tim McMahan, Lazy-i.com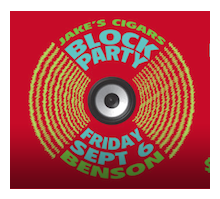 Well, we made it to Friday, and to Jake's Block Party in Benson. It might be the best line-up they've ever had: Twinsmith (new single coming soon), See Through Dresses (Sara from Millions of Boys), Oquoa (a mash-up of Conduits and Great American Desert), Noah's Ark Was a Spaceship (Omaha's answer to Sonic Youth) and headliner, Lincoln band Universe Contest (This generation's Eagle*Seagull? (though they sound nothing like E*S)). The fun starts at 7 and only costs $5. Booze and food will be available (for a price).
It's all part of Benson First Friday, so check out some art before you check out the music. More details here.
Jake's party is the highlight of the weekend. Also tonight, the Waiting Room is hosting another Johnny Cash tribute show, and O'Leaver's has Rock Paper Dynamite.
The noise in Benson will continue Saturday as the Sweatshop Gallery hosts the 4th Annual Nebraska Hardcore Showcase. The 17-band bill runs from 2 p.m. to midnight. The headliner: Powerslop. I don't follow the current hardcore scene so I can't tell you a thing about the line-up, but if you have an inkling of interest in that style of music it's hard to go wrong for $5. Check out the Facebook event listing for the full band list.
Also Saturday night, The Waiting Room is hosting a Ranch Bowl band reunion (Clever rides again). $8, 8:30 p.m.
So where's all the god-danged national shows? You're going to have to wait 'til Tuesday when The Slowdown hosts Jim James and Basia Bulat.
That's all I got. If I missed anything, put it in the comments section. Have a good one.
* * *
Read Tim McMahan's blog daily at Lazy-i.com — an online music magazine that includes feature interviews, reviews and news. The focus is on the national indie music scene with a special emphasis on the best original bands in the Omaha area. Copyright © 2013 Tim McMahan. All rights reserved.
3 Comments »
Again, it's maybe just a quibble over grammar, but I'm pretty aure TWR has never hosted a Johnny Cash tribute band before tonight. Certainly not this one 😉

Comment by m bowen — September 6, 2013 @ 12:56 pm

There have been other Johnny Cash nights held in other bars, maybe Barley or Syd's. That's what I meant by "another JC tribute night…" Guess I should have said "…just another Johnny Cash tribute night…"

But it's a first for The Waiting Room!

Comment by tim-mcmahan — September 6, 2013 @ 1:47 pm

Youth Lagoon plays at the Waiting Room on Tuesday. Great psychedelic-pop sound. With opener Pure-X

Comment by Jesse — September 8, 2013 @ 7:07 pm
RSS feed for comments on this post. TrackBack URL
Leave a comment