by Tim McMahan, Lazy-i.com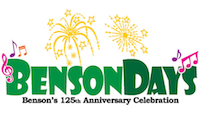 Benson Days is going on all weekend. Happy 125th birthday to Omaha's own version of "New Boho," or as I like to call it, The Booze District. I'm only halfway kidding about that name. With, what, 11 bars along a five-block stretch of Maple Street, Benson should brand itself with a name like The Barley District or Beer City U.S.A.
Anyway, Benson will host various and sundry family-flavored events all weekend, including a special appearance by The Pancake Man tomorrow morning. I hate pancakes. Why couldn't they hire The Breakfast Burrito Man or The Belgian Waffle Man? Good thing the beer garden opens at, like, 10 a.m.
ANYWAY… you can keep up on all the Benson 125 action right here. The website includes a schedule for the "Benson Days After Dark" rock shows on Saturday night. A $10 wristband gets you into four different venues to watch the usual collection of Benson regulars perform starting at 8 p.m. —  it's kind of like a lite version of an OEA showcase.

Meanwhile, just a few blocks away, fabulous O'Leaver's continues its usual celebration of booze and debauchery tonight with Dirty Flourescents, Comme Reel and John Klemmensen and The Party. $5, 9:30 p.m.
There's also a punk show going on tonight at good ol' Sokol Underground. On the bill: Bouncing Souls, The Menzingers and Luther. $18, 8:30 p.m.
Tomorrow night it's back to O'Leaver's for Snake Island, Empty Spaces and Dads. $5, 9:30 p.m.
And then Sunday night, The STNNNG returns to The Waiting Room with Noah's Ark Was a Spaceship, Baby Tears and Birthday Suits, all for a mere $7. Starts at 9.
* * *
Read Tim McMahan's blog daily at Lazy-i.com — an online music magazine that includes feature interviews, reviews and news. The focus is on the national indie music scene with a special emphasis on the best original bands in the Omaha area. Copyright © 2012 Tim McMahan. All rights reserved.
No Comments »
No comments yet.
RSS feed for comments on this post. TrackBack URL
Leave a comment