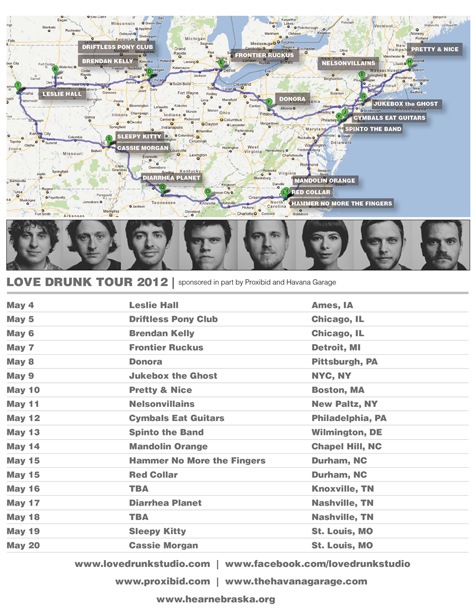 by Tim McMahan, Lazy-i.com
Ah yes, it's that time of year again when Django Greenblatt-Seay (G-S for short) and his band of merry pranksters heads out across the wilderness to capture the best and brightest up-and-coming indie bands livin' and lovin' along the Eastern Seaboard.
Of course I'm talking about the Love Drunk 2012 Tour.
The map and list of bands are right there at the top of your screen. We're talking 17 days, 14 cities, 8 people in one very smelly van.
Actually, the trip has been split into two tours of duty, with four of the eight splitting time between two legs of the tour. It breaks down like this: G-S, Ben Semisch and The Normans (Angie and Andy, the dynamic duo behind Hear Nebraska) will be along for the full tour. Matt Hovanec and Andrew Roger will be on for the first leg. At some point they will be swapped out with Brendan Greene-Walsh (of O'Leaver's/So-So Sailors fame) and superstar photographer Daniel Muller (who I refer to as Omaha's Anton Corbijn).
Like last year, I haven't heard of many of the bands they're filming on the road, which G-S said he found via friends, friends in bands and "Facebook trolling." However, we all know that Cymbals Eat Guitars just got off the road with Cursive; and Spinto the Band opened for Basia Bulat at Slowdown a couple years ago. Beyond that, G-S tells me that Laura Burhenn of The Mynabirds suggested Jukebox the Ghost. Sarah of Millions of Boys suggested Nelsonville. And Spinto came by way of Love Drunk regular Arrah and the Ferns.
So what's Love Drunk? It's a live, one-shot music video project that's featured a number of the better indie bands from around Omaha, including It's True, Little Brazil, Conduits, Digital Leather and so on. The videos are housed at lovedrunkstudio.com, of course. Read this 2011 column that outlined last year's tour. Or read my new column about Love Drunk, which will appear in this week's issue of The Reader.
Love Drunk continues to see its viewership grow. The site's 73 current videos have been getting a total of 18,000 views per month so far this year, about a 25 percent bump over 2011. Not bad. But we all know imitation is the greatest indicator of success; and just a few weeks ago the Omaha World-Herald began their own version of Love Drunk called Guest List, created by paid staff rather than volunteers. G-S ain't worried. He says there's room for two (or three or four) different music video projects in Omaha.
Speaking of money, this year's Love Drunk Tour is being funded by a couple sponsors — Proxibid and Havana Garage. They're ponying up much of the $5k needed to make thing work. But G-S still wants more, which is why The Sydney in Benson is hosting a fundraiser for Love Drunk Thursday night featuring Honeybee and Hers and Bazooka Shootout. It'll be your last chance to say goodbye to the Love Drunk team, as they'll be hitting the road on Friday…
* * *
The boys in Desaparecidos announced a few more tour dates this morning, including Minneapolis, Portland, Seattle and SF, all in mid- to late-August. Check out the sched at their website. Will there be a new vinyl release soon? Keep your fingers crossed.
In addition, Conor Oberst announced some solo dates, including a string in late July out east. Those dates are listed here on his website.
* * *
Finally, Red Sky announced today via its Facebook page that it will name names for its 2012 "festival" next Monday, May 7. Ho-boy, can't wait for that one…
* * *
Tonight red hot Brooklyn band The Drums plays at The Waiting Room with Craft Spells and Part Time. $15, 9 p.m.
* * *
Read Tim McMahan's blog daily at Lazy-i.com — an online music magazine that includes feature interviews, reviews and news. The focus is on the national indie music scene with a special emphasis on the best original bands in the Omaha area. Copyright © 2012 Tim McMahan. All rights reserved.
No Comments »
No comments yet.
RSS feed for comments on this post. TrackBack URL
Leave a comment