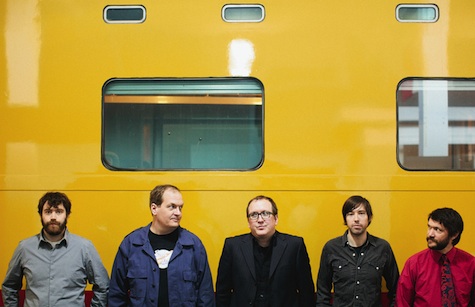 by Tim McMahan, Lazy-i.com
Released Feb. 21 on Saddle Creek Records, Cursive's I Am Gemini is more than your typical concept album, it's a full-blown 2-act play – or more specifically – a 2-act opera, whose plot would have been right at home performed either in ancient Greece or as an episode of The Twilight Zone.
The "official interpretation" via the record label: "I Am Gemini is the surreal and powerful musical tale of Cassius and Pollock, twin brothers separated at birth. One good and one evil, their unexpected reunion in a house that is not a home ignites a classic struggle for the soul, played out with a cast of supporting characters that includes a chorus of angels and devils, and twin sisters conjoined at the head."
The album comes with a Playbill-style lyrics booklet that reads like a script complete with stage direction. But even if they follow the album's lyrics word-for-word, fans will come up with their own interpretation of the album's meaning. For example, this intrepid reporter was reminded of the schizophrenic 2010 Darren Aronofsky film "Black Swan."
"Black Swan is a good example of how stories of duality are told," said Cursive frontman and songwriter Tim Kasher over a PBR at the Old Dundee Bar & Grill a couple weeks before the band headed out on tour. "I hadn't thought of 'Fight Club' as an example until an interviewer brought it up, but that's essentially it. Those are stories about one person split into two."
At first, I Am Gemini feels like a departure from Kasher's usual navel-gazing lyrical content. The band's landmark album Domestica, for example, allegedly focused on Kasher's painful divorce; 2003's The Ugly Organ was an exploration in creative self-loathing, while Kasher gave us his views on organized religion on 2006's Happy Hollow. By contrast, I Am Gemini, with its good-and-evil twins and sisters with conjoined heads, seems like complete fiction… or is it?
"It's important to note that it is really personal and based on a self-referential story," Kasher said, "In the past, the lyrics were so literal or so thinly veiled to the obvious. This time it was a lot of fun to expand into something more fictionalized."
But can a concept album this tightly drawn, where each song is dependent on the other to tell a cohesive story, be successful in this singles-driven iTunes era? Can songs on I Am Gemini stand on their own, out of context, without the rest of the album, and is Kasher confident that listeners will take the time necessary to sit down and absorb the album in its entirety?
"I'm not confident of that at all," he said. "A lot of this is my personal interest in tackling a full story in an album, and I'm still scared having done it, but I'm glad I pushed myself a little further. A really small percentage of people will really appreciate it, and I really appreciate those people. I'm glad they're there to take it on. But I think (the songs) can still be presented separately."
Kasher said he considered each song as a self-contained short story, but added, "It's been troubling releasing (songs) out of context of the album for premieres. I feel like they're part of a whole, which goes counter to what I'm saying about them being able to survive on their own."
There are indeed tracks that can stand in isolation. The album's first leaked track, "The Sun and Moon," taken completely out of context can be read as a love song of sorts. "A Birthday Bash" has one of the better guitar riffs Cursive's ever put on tape. Still others act more like bridges between ideas, such as "The Cat and Mouse."
So far, critics have been split on whether or not the concept worked. Indie taste arbiter Pitchfork called it "the weakest Cursive album by a disheartening margin" and summed it up as "Kasher talking to himself," while AV Club called it "forceful; a demanding rock-driven opus" and Paste said, "Musically, the band is at their most adventurous, albeit not their most accessible."
All agree that I Am Gemini is the hardest Cursive album since Domestica. It is brutal, but even more than that, it's proggy — proggy enough to make the members of King Crimson and Roger Waters blush. At the very least, it's an about-face from the apparent convergence music-wise of Cursive and Kasher's other band, the more singer-songwriter based The Good Life. Kasher agreed.
"The last couple records, we were trying to marry those different styles and make a more diverse record," he said. "This time around at the very onset of this album I thought 'I'm going to do a Cursive album.' It was right for this time in my life and for the other guys in the band. We decided if we're going to do it, let's do it full on. Let's write something that fits into the rock category, something to listen to on a Friday night."
Those "other guys" are Cursive's core members, bassist Matt Maginn and guitarist/vocalist Ted Stevens, along with drummer Cully Symington and keyboardist Patrick Newbery, who played horns on the last two albums, but switched when Kasher once again moved away from less traditional instrumentation as he did when the band stopped using cello after The Ugly Organ.
"When we moved away from cello, it was a taste decision," Kasher said. "At an early point, I thought cello would be a really good thing to have. By the end of it all, it was so overdone and we needed to move onto something else. Along those lines, we've done horns for the last couple records, and it felt like we'd done enough of it. It's nice to not have to be bound by these additional instruments."
Something tells me fans won't be missing them when the band hits the road.
And despite the theatrical nature of I Am Gemini, Kasher said he has no intention of recreating the opera on stage by performing it sequentially. "We respect the ticket holder," he said. "We're still playing under the name Cursive, and that implies our full catalog. We're happy to play the proper hits and some fun, deeper cuts, what we garner as the taste of the avid Cursive listener.
"We'll be playing 'The Martyr' on this tour every single night, just like we have for the past 12 years," he added. "It's a moment in the set where we're feeding off the energy of the people that are excited to hear it."
Cursive plays with Ume and Virgin Islands Saturday, March 3, at Slowdown, 729 No. 14th St. Showtime is 9 p.m. Admission is $13 advance, $15 day of show. For more information, call 402.345.7569 or visit theshowdown.com.
* * *
Laura Burhenn of The Mynabirds is part of a panel that will be discussing "women in performance" this evening at House of Loom. Also on the panel are Susann Suprenant of ætherplough, Felicia Webster (aka WithLove) and actor Kirstin Kluver. The band Howard will be performing after the panel. The free event starts at 5 at House of Loom, 1012 Howard St.  For more info, go to houseofloom.com.
* * *
Read Tim McMahan's blog daily at Lazy-i.com — an online music magazine that includes feature interviews, reviews and news. The focus is on the national indie music scene with a special emphasis on the best original bands in the Omaha area. Copyright © 2012 Tim McMahan. All rights reserved.
2 Comments »
RSS feed for comments on this post. TrackBack URL
Leave a comment