by Tim McMahan, Lazy-i.com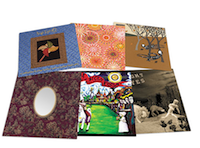 Saddle Creek Records announced today that it's re-releasing six early Bright Eyes albums on vinyl. We're talking A Collection of Songs…(2 LPs), Oh Holy Fools (Son Ambulance lives!), Letting Off the Happiness, Every Day and Every Night, Fevers and Mirrors (2 LPs), and There Is No Beginning to the Story.
The doubles are $23 (180-gram), the EPs are $13 and the LPs are $15 (180-gram). Or you can get the lot for $99. Each reissue contains a CD of the album packaged in the jacket. And you also get the digital download for free. That's a lot of content, folks. Too bad they didn't get this ready in time for Christmas.
Fevers is the golden one here. And if you're wondering, the Saddle Creek online store already offers everything including and beyond Lifted on vinyl.
So this got me wondering what was available by the other members of the Creek triumverate. All of Cursive's LPs from Domestica on are available on vinyl, as are all The Faint's LP's from Blank-Wave Arcade on. Saddle Creek always has done a good job with vinyl.
The biggest areas for future exploitation are The Good Life catalog — only Album of the Year and Help Wanted Nights are available on vinyl, which leaves Black Out and one of their best, Novena On a Nocturn, ripe for vinyl reissue. Also for consideration: the entire Now It's Overhead catalog.
So will all future Saddle Creek vinyl releases come with a free CD and download? For example: You can preorder Cursive's I Am Gemini for $11 on CD, or for just $4 more get the vinyl, CD and mp3 file. Hey, might as well just buy the vinyl, kids. So far, this free-CD-with-vinyl approach hasn't become the industry model. Neither Sub Pop, Matador nor Merge are offering a similar deal, yet…
* * *
Read Tim McMahan's blog daily at Lazy-i.com — an online music magazine that includes feature interviews, reviews and news. The focus is on the national indie music scene with a special emphasis on the best original bands in the Omaha area. Copyright © 2012 Tim McMahan. All rights reserved.
7 Comments »
RSS feed for comments on this post. TrackBack URL
Leave a comment