It was nice to be back at O'Leaver's Saturday night. It's been quite a few weeks since I leaned against the rail inside everyone's favorite mid-town stinkhole. As the marquee says, "Voted Best of Nothing. Thanks Omaha!" It was, however, voted best place to see a live show by a certain dumb-ass who writes about music for The Reader. Yes, The Waiting Room has a superior stage, sound system, lighting, everything. Slowdown is an absolute marvel, a wonderland for live music. But O'Leaver's, well, you just can't beat it for its low-down, intimate vibe. You never know what you're going to get on any given evening. It could be absolute shit; it could be one of the best performances of the year. Saturday night's show was the former. Actors & Actresses, a three-piece that drove up from Kansas City, rifled through an amazing set of gritty, fuzzy, feedback-smeared slow-churners. Shoegazer on steroids. Someone referenced Sigur Rós. I was reminded of classic '90s Lawrence band Zoom, though at a much slower pace. This was head-trip music. As one guy said, "I should have taken that acid before the set." They were the first band in a long time that showed a video during a performance that actually enhanced the experience — the collection of shots ranged from show-motion explosions to grainy b&w landscapes to atmospheric, decaying set pieces, all of which could have been used in a Joy Division video. Well-edited and always interesting, and a perfect compliment to their sound. And speaking of sound, the audio level also was perfect — loud, but not painful. There was no need for earplugs. There also was no escaping its intensity, which is another thing I like about O'Leaver's. At TWR you can always retreat back to the bar for relief. Same with Slowdown. But there's no place to hide in O'Leaver's. You cannot escape the music, and as a result, you're forced to pay attention (for better or worse).
Actors & Actresses was followed by headliners Race for Titles. And as if on cue, just as the band was setting up, the place got packed like it always does at around 11:30. I haven't seen RFT in over a year because other than a couple very recent shows, they haven't played in a year. That hasn't stopped them, however, from writing new material. My main gripe about RFT always has been: 1) Their droning sound, while interesting, can become repetitive (and boring), and 2) the vocals are more like improvised three-note tonal wailing than singing. That's changed with this new material. The opening song featured drummer Matt Baum tapping out rhythms on the rims and cymbal stands. The riffage was most awesome, a departure from the usual semi-shoegazer Cure-ish minor-key wave-of-desolation dirge rock. Still, there was plenty of that, too, as if the band cannot escape their droning, ethereal past. I preferred the more up-tempo, riff-oriented rock. My guess is there will be plenty of both on their new album, which the band tells me is pretty much in the can. You'll get a chance to check out the new stuff when RFT opens for Neva Dinova at Slowdown Feb. 23 along with Noah's Ark Was a Spaceship.
* * *
I know, I know… After reading all that, you're feeling lonesome for a little O'Leaver's love. Well, you can get some tonight as Omaha's Favorite Stinkhole hosts Forbidden Tigers, Estrogen Highs and Fucken Snakes. The fun starts at 9 and will run you $5 clams.
* * *
On the news wire… Looks like Bob Mould has a new record coming out, according to CMJ (here). Says the article: "Mould somehow found time to craft what is being described as a return to his flying V-centric days. While Mould's projects always come with promises to his longtime followers that this one will please longtime followers, District Line may be the closest in sonic similarity to his catchy, Sugar/Husker Du guitar-based bash-aways." I'll believe it when I hear it. Looks like the closest he's coming to Omaha on this tour is Minneapolis (First Ave.) and Chicago (Metro). Something tells me he'll be through here sometime this year, though.
* * *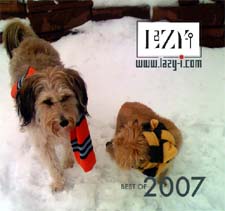 Seriously folks, the clock's ticking. The deadline is Thursday. Get your entry today in to win a copy of the coveted Lazy-I Best of 2007 Compilation CD! All you have to do is e-mail me (tim@lazy-i.com) with your name and mailing address and you'll be entered into the drawing. Tracks include songs by Stars, Interpol, Rilo Kiley, Wilco, Les Savy Fav, Justice, Baby Walrus, Bright Eyes, The Good Life, The Monroes, The Third Men and many more. Details and track order are right here. Enter now! Deadline's January 17.
–Got comments? Post 'em here.—
No Comments »
No comments yet.
RSS feed for comments on this post. TrackBack URL
Leave a comment