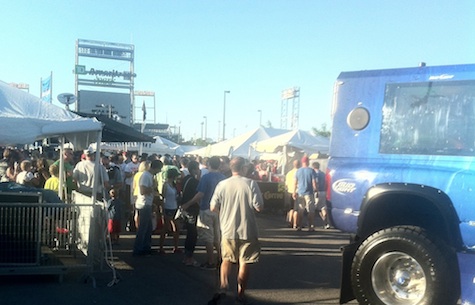 by Tim McMahan, Lazy-i.com
And so, it's that time of year again, when Jason and his team roll out the big, fat money-printing machines that they keep in The Slowdown's secret basement and begin cranking out the Benjamins.
That's right, it's College World Series time at The Slowdown. Well actually, it starts on Thursday, but The Slowdown has already begun setting up the tents and putting away the indie music to make way for the drunken rubes with the big wallets.
I remember a time back when The Slowdown first opened in 2007 when there was nothing in the NoDo area but the Slowdown compound. And then along came the ballpark, followed by hotels and bars and businesses and now The Slowdown is just another stop on the CWS bar crawl.
Glancing at their schedule, The Slowdown appears to have foregone the cover bands during CWS season, with DJs on the first weekend (including the impeccable Tyrone Storm Saturday night) and Satchel Grande on the 23rd.
We'll miss you, Slowdown, but we know you'll be back. specifically for Julia Jacklin July 25 and Youth Lagoon July 26.
. 0 0 0 .
In the midst of the grunge era circa 1993 Counting Crows released August and Everything After, which was lauded by the then-significant Rolling Stone magazine and included a song named after our fair city. I will not lie – I bought that CD and sang along just like everyone else to "Round Here" and "Mr. Jones" and most of the other songs on the T Bone Burnett-produced hit album that sold 6 million copies.
Counting Crows would go on to release six more studio albums, but nothing new since 2014's Somewhere Under Wonderland, which I've never heard.
Tonight you, too, can sing along with Counting Crows as they play a selection of their "greatest hits" at Steelhouse Omaha. Main floor tickets are still available for $75. Show starts at 7:30 p.m.
* * *
Read Tim McMahan's blog daily at Lazy-i.com — an online music magazine that includes feature interviews, reviews and news. The focus is on the national indie music scene with a special emphasis on the best original bands in the Omaha area. Copyright © 2023 Tim McMahan. All rights reserved.