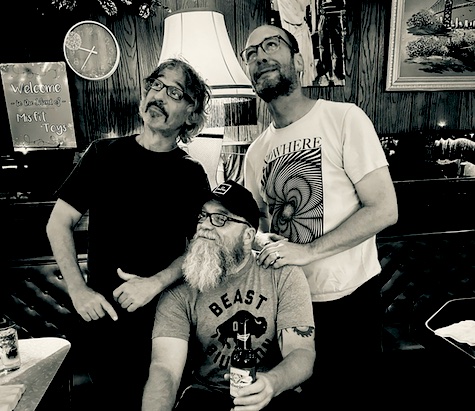 Bad Bad Men celebrate their vinyl album release tonight at Reverb Lounge.
by Tim McMahan, Lazy-i.com
No touring indie shows this weekend, but a couple local album release gigs worth your attention: 
Tonight at Reverb Lounge it's the album release show for the debut album from Bad Bad Men. The power trio consists of Omaha rock 'n' roll legends Chris Siebken on drums, Jerry Hug on bass and frontman/guitarist John Wolf.  The album, Messed Up, is a 10-song scorcher that recalls the gritty, bluesy punk style Wolf brought to classic '90s-'00s act Bad Luck Charm, sung with his distinctive snarl/growl that will have you breaking bottles and starting fights. Siebken and Hug are so tight they sound like they're attached at the hip, while Wolf's guitar flies high above it all. 
Recorded over two days at ARC Studios with Adam Roberts, it's the first new release on Speed! Nebraska Records in recent memory. As a result, the album release show is a pseudo showcase, as label executive Gary Dean Davis' own band, Wagon Blasters, will kick off the evening. Also on this crowded bill are Omaha garage rock titans Those Far Out Arrows and Pagan Athletes — the prog-noise duo of Griffin and Nathan Wolf, who are, yesss, The Sons of John Wolf (now there's a band name for you)(Waitaminit, does that make Bad Bad Men "dad rock"?). 
You get all four bands for a mere $12. I expect this show to sell out, so you may want to buy your tickets in advance. You will also want to buy the limited-edition vinyl, which will be on hand at the show but is also available for order online. The fun starts at 8 p.m. Need more info? Check out MarQ Manner's interview with Bad Bad Men at The Reader website. 
Then tomorrow night (Saturday) it's the vinyl release show for R.A.F.'s No Salvation album, which was released this past July. The punk band's line-up is Paul Moerke, Tim Cox, Dereck Higgins, Dan Stewart and Kelley RAF. At least one of the band's members is traveling in for this special one-off gig. Also on the bill are punk band Cordial Spew and "2 special guests," according to the flyer. $15, 8 p.m. 
And that's all I got. If I missed your show, put it in the comments section. Have a great weekend.
* * *
Read Tim McMahan's blog daily at Lazy-i.com — an online music magazine that includes feature interviews, reviews and news. The focus is on the national indie music scene with a special emphasis on the best original bands in the Omaha area. Copyright © 2023 Tim McMahan. All rights reserved.