by Tim McMahan, Lazy-i.com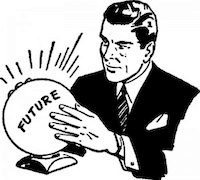 So with last year's predictions in the books, it's time to gaze into my mystical, magical crystal Marshall amp to unveil visions of the coming days, weeks and months, starting with the global premonitions for 2013:
Some could argue that indie music in Omaha peaked in the early 2000s but maintained a strong presence throughout the decade right up to the pre-20-teens. But it was only a matter of time before the erosion of the music industry began to take its toll both locally and on a national scale.
At a time when musicians depend on live performance income more than ever, next year larger clubs will begin to slope down the number of indie shows they book in favor of more commercial fare, such as cover bands and mainstream-style pop acts (Some say it's already begun).
That isn't going to stop indie bands from touring. Instead, it will force them to find other options, effectively driving indie music back underground. Just like in the early '90s, next year we'll begin to see a revival of shows hosted at alternative venues, including hall shows, house shows and temporary one-off venues — anywhere local promoters can find a stage for bands to play.
The underground trajectory will touch all facets of indie music. For example, the dream of signing with a record label and "breaking big" has all but disappeared as labels have become little more than PR firms with musician clients. While there's still value to being signed to a mid-level label (especially for touring), a new, unfortunate music distribution model will become more commonplace, one that involves bands giving away their music as free downloads in the hopes of generating income from vinyl and merch sales.
As a result of these gloomy financial prospects, the number of viable touring indie bands will dwindle as it becomes painfully obvious that it's nearly impossible for even nationally known bands to make a living solely from their music. Day jobs will become the norm for bands who before survived solely on album and touring income.
With touring becoming less of a realistic possibility for bands, watch for a revitalization of local and regional music scenes. Instead of waiting for them to come to their hometowns, fans will begin to venture to their favorite bands' hometowns to attend their local shows. Under this model, a music district such as Benson could become a true destination spot for music fans, but only if more venues open along Maple Street and an enterprising entrepreneur decides to build lodging (hotel, etc.) nearby.
In the end, 2013 will be a bleak survival test for nearly all indie bands unless something big happens that shakes up the music industry and makes listening to music "something special" all over again. Like punk, grunge, and hip-hop, a new major music style is due to emerge that will change everything. But don't look for it next year…
Pretty grim stuff, but it ain't all bad news. Tomorrow: Predictions Pt. 3: The Lightning Round.
* * *
Some more perspective on yesterday's comment about vinyl sales growing 16 percent in 2012: Third Man Records announced that the top-selling vinyl LP in 2012 was Jack White's Blunderbuss, selling a grand total of 33,000 copies. By contrast in 2011 (2012 numbers aren't out yet), Adele's 21 album sold 5.8 million copies.
* * *
Metacritic has a tentative schedule of first quarter new indie releases. Highlights include new Yo La Tengo Jan. 15, Tegan and Sarah Jan. 29, Johnny Marr Feb. 26 and Low March 19. And let's not forget new Big Harp out Jan. 22 and Ladyfinger Feb. 5.
* * *
Speaking of Ladyfinger, a track off their new disc is among the offerings on the Lazy-i Best of 2012 sampler CD. Other tracks include songs by Tame Impala, Cat Power, PUJOL, Millions of Boys, First Aid Kit, Twin Shadow, Desaparecidos, The Intelligence, Violens, Paul Banks, Ty Segall Band and lots more. The full track listing is here (scroll to the bottom). Enter the drawing to win a free copy by sending an email with your name and mailing address to tim.mcmahan@gmail.com. Hurry! Deadline is Jan. 15.
* * *
Read Tim McMahan's blog daily at Lazy-i.com — an online music magazine that includes feature interviews, reviews and news. The focus is on the national indie music scene with a special emphasis on the best original bands in the Omaha area. Copyright © 2013 Tim McMahan. All rights reserved.