by Tim McMahan, Lazy-i.com
This was the hardest year that I can remember for pulling together a year-end top-10 list. Don't get me wrong there was plenty of good music last year, but not very many good end-to-end albums. Case in point: It was much easier for me to pull together favorite tracks for the Lazy-i Best of 2012 compilation CD than it was choosing complete albums for the top-10 list. Is that a symptom of an era where people are buying more individual tracks than full albums? I don't know. I don't think so.
But interestingly, when I think about the most "complete" thematic albums from this past year, the ones that come to mind don't have any individual tracks that stand out or that would make sense to include on a sampler. I'm talking about albums like Swans' The Seer or Godspeed! You Black Emperor's Allelujah! Don't Bend! Ascend!, Scott Walker's Bish Bosch or even Cursive's I Am Gemini. These are challenging, sit-down records where each track depends on the others to maintain the overall atmosphere.
We all know about the rebirth of vinyl as a re-energized music format. If it really took off, then we'd see more of these thematic "whole" albums. But something tells me if vinyl sales haven't peaked yet, they soon will. Part of the reason is the price. Those of us who were around before CDs remember paying between $6.99 and $8.99 for new single LPs — a bargain. Today, most new single LPs sell for between $18 and $22. That's just too much for vinyl to become a truly viable option for anyone except collectors and audiophiles when kids can download the same albums for half as much or as little as $5 on Amazon (when they decide to pay for them at all).
But maybe even more disturbing than format or price is that attention spans have dwindled in this shuffle-mode world. Is it realistic to think that this generation — with all of its media distractions — has the time and patience to sit down and absorb an album like The Seer? I don't know.
Anyway, with all that in mind, I did manage to pull together my top-10 favorite albums of 2012. Again, these are not the best albums of 2012, rather the ones that I've enjoyed the most and will continue to enjoy beyond this year. Here they are:

Icky Blossoms, self titled (Saddle Creek) — When word got out that they were running out to El Lay to record with TV on the Radio's David Sitek we all knew something was up. The result was a sexy, sassy dance album that rivals The Faint's finest moments.

Cat Power, Sun (Matador) — Chan Marshall put aside afternoon-light fragment pop for something more upbeat, trippy, tuneful and almost happy, until you listen to the words.

The Intelligence, Everybody's Got It Easy But Me (In the Red) — The best under-the-radar indie rock collection that's worth the effort of finding. Not so much garage as refined garage, with a nod toward yesteryear.

Twin Shadow, Confess (4AD) — A dizzying trip back to '80s electro-pop with a sound that recalls everything from General Public to Fine Young Cannibals to New Order to Peter Gabriel. If you're gonna steal a style, this is how to do it.

Bob Mould, Silver Age (Merge) — Of all the '90s heritage acts that released material in '12 (including Dinosaur Jr. and Sebadoh), Mould's was the most well thought out, and the most satisfying.
Tilly and the Wall, Heavy Mood (Team Love) — After you get past the B-52′s-flavored opening tracks, it's as good an (adult) indie rock album as you're likely to find, with harmony-rich tracks like "Hey Rainbow" and "I Believe in You" that give Azure Ray a run for its money. Looks like our Tilly finally grew up.

PUJOL, Unites States of Being (Saddle Creek) — Proof that Saddle Creek still has a nose for finding new talent (even though Jack White found it first). All his earlier recordings have been leading up to this. Not anthemic, but epic nonetheless.

Simon Joyner, Ghosts (Sing! Eunuchs) — Four sides of pure prairie ennui. It's not so much a collection of eulogies as much as elegies to his own life and the lives of friends now gone. Stark, dark and the best thing Joyner's released since 2006's Skeleton Blues.
Digital Leather, Modern Problems (FDH Record) — I could have just as easily listed DL's Yes Please, Thank You (Southpaw Records) or Purple Fire, the self-released album by Shawn Foree's other project, Mere Mortals, since all three came out in 2012, and all have the same electro-dread pop sensibility. Omaha's best kept secret.

Paul Banks, Banks (Matador) – This solo outing from Interpol's frontman buries his main gig's last couple icy-cold albums because it sounds so… human.
Where are those aforementioned albums by Swans, Walker and Godspeed? Yeah, they're good, but for me, they're something I'll likely only experience once and will never revisit, maybe ever again. Maybe they're the best, but they're not my favorites.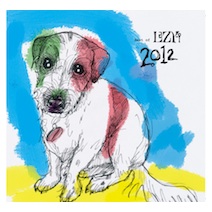 Now lets get to my favorite tracks that I've stumbled across during my tenure this year as music critic for The Reader and Lazy-i.com. As per usual, they're included in my annual Best of 2012 Lazy-i sampler CD. Here's the track listing:
1) Tame Impala, "Be Above It" (from the album Lonerism)
2) Ty Segall Band, "Tell Me What's Inside Your Heart " (from the album Slaughterhouse)
3) Pujol, "Made of Money" (from the album United States of Being)
4) Cat Power, "Manhattan" (from the album Sun)
5) Violens, "Sariza Springs" (from the album True)
6) First Aid Kit, "Emmylou" (from the album The Lion's Roar)
7) Paul Banks, "The Base" (from the album Banks)
8) Ariel Pink's Haunted Graffiti, "Only In My Dreams" (from the album Mature Themes)
9) McCarthy Trenching, "2:47, July 18, 2011" (from the album Plays Piano)
10) Desaparecidos, "Backsell" (from the single "Marikkkopa b/w "Backsell")
11) Mere Mortals, "B12" (from the album Purple Fire)
12) Icky Blossoms, "Chicas" (from the single "Babes" b/w "Chicas")
13) Ember Schrag, "Your Words" (from the album The Sewing Room)
14) Millions of Boys, "Dudcats" (from the album Competing for Your Love)
15) Twin Shadow, "Run My Heart" (from the album Confess)
16) The Faint, "Take Me to the Hospital" (from the album Danse Macabre (Deluxe Edition))
17) The Intelligence, "Little Town Flirt" (from the album Everybody's Got It Easy But Me)
18) Simon Joyner, "If I Left Tomorrow" (from the album Ghosts)
19) Gordon, "Anti-Romantic (Drunk Dialed)" (an unreleased demo)
20) Ladyfinger, "Galactic" (from the album Errant Forms)
21) Nicky Da B, "Xmas In the Room" (from the album Chopped and Scrooged)
At this point you're thinking, "Tim, I'm not your brother, nephew or niece, nor an industry 'insider' nor a member of the Saddle Creek/O'Leaver's Mafia. How can I possibly get a copy of this fantastic, highly collectable compilation?"
Ah well, it's simple really. All you have to do is send me an email (to tim.mcmahan@gmail.com) with your name and mailing address (where I can send it, duh) and you'll be entered into a drawing for a copy! Hurry, drawing deadline is Jan. 15!
* * *
Tonight is one of the biggest shows of the holiday season. Little Brazil returns to The Waiting Room stage with Sons of The Waiting Room and the debut of The Brigadiers (Drummer Clint Schnase (ex-Cursive), guitarist/vocalist Shane Lamson, guitarist/vocalist Mark Weber (ex-Box), and bassist/vocalist Vic Padios (ex-Calico, ex-Gymnastics)). Opening is John Klemmensen and The Party. $7, 9 p.m. This could be huge.
Also tonight, Jake Bellows (of Neva Dinova fame) and his band plays at The Slowdown with Mal Madrigal and Our Fox. $8, 9 p.m.
* * *
Read Tim McMahan's blog daily at Lazy-i.com — an online music magazine that includes feature interviews, reviews and news. The focus is on the national indie music scene with a special emphasis on the best original bands in the Omaha area. Copyright © 2012 Tim McMahan. All rights reserved.
4 Comments »
RSS feed for comments on this post. TrackBack URL
Leave a comment