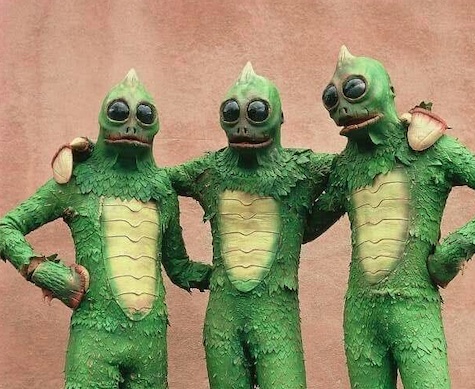 Not Dip Tet but a photo I found on their Facebook page.
by Tim McMahan, Lazy-i.com
No indie shows this weekend. Is this the Cornhusker effect? No, it's been pretty much like this all year. Should have gone to the Diners show on Wednesday night, eh. Like I said, when you have a chance to go to a touring indie show — any touring indie show — do it. You never know when the next one will be coming through…
That said, there is one show happening tonight…. at Bodega's Alley in Lincoln.
Dip Tet is a noise-rock trio that consists of Lance Fiedler (F.A.C.E., Halfwit, Gripping), Mike Keeling (Ideal Cleaners, Wondermonds) and Dan Jenkins (Ideal Cleaners, Halfwit, Gripping).
Jenkins reached out earlier this week, saying the band has been together for a little over a year after the dissolution of Gripping. Their first show was in July 2022, and tonight is only their 7th show — a tape release show for their self-titled debut album. 
Joining Dip Tet is Lincoln old school rockers Dirty Talker and The Credentials. Show starts at 9 p.m. at Bodega's Alley, 1418 O St. in Lincoln. No price listed, so who knows, maybe it's free (but I doubt it). 
I typically don't list Lincoln shows, but hey, it's the only show in the state this weekend, except for this one at The Slowdown tonight…
The Buttertones are headlining at Slowdown, Jr. These guys used to tour with The Rev. Horton Heat on occasion. According to Wiki, members of the band were connected to the Burger Records sex misconduct scandal of 2020, which led to half of the band splitting. They have a new line-up as of 2022. Tucson duo New Misphoria are touring with them and may be worth the price of admission alone. 8 p.m., $20.  
That's all I got. Unless I'm missing something, like your show. If so, put it in the comments section. Have a great weekend!
* * *
Read Tim McMahan's blog daily at Lazy-i.com — an online music magazine that includes feature interviews, reviews and news. The focus is on the national indie music scene with a special emphasis on the best original bands in the Omaha area. Copyright © 2023 Tim McMahan. All rights reserved.