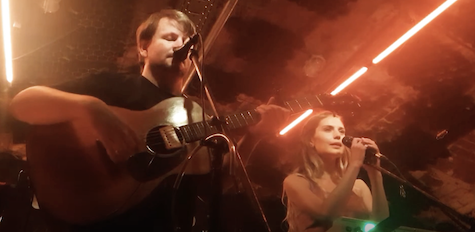 Ocie Elliott plays tonight at Reverb Lounge.
by Tim McMahan, Lazy-i.com
In this day and age, one of the best ways to get your music "out there" is to somehow get your songs on a television show. It's one of the reasons Azure Ray became so popular as their songs were tailor-made for series like Grey's Anatomy, where they've had a lot of pick up.
So has Ocie Elliott. The Canadian soft-rock indie duo of Jon Middleton and Sierra Lundy snagged two spots on episodes of Grey's Anatomy. How that happened, I do not know, but it doesn't hurt to have your music released on Nettwerk Music Group. Or the fact that your songs have the somber, lonely melodies that work so well in scenes where the young doctors and nurses are reflecting on either their wrecked lives or the wrecked life of a patient that recently passed while in their care.
Anyway, Ocie Elliott is playing tonight at Reverb Lounge. Zachy, a dude who really loves Bon Iver, opens at 8 p.m. $20.
* * *
Read Tim McMahan's blog daily at Lazy-i.com — an online music magazine that includes feature interviews, reviews and news. The focus is on the national indie music scene with a special emphasis on the best original bands in the Omaha area. Copyright © 2023 Tim McMahan. All rights reserved.
No Comments »
No comments yet.
RSS feed for comments on this post. TrackBack URL
Leave a comment