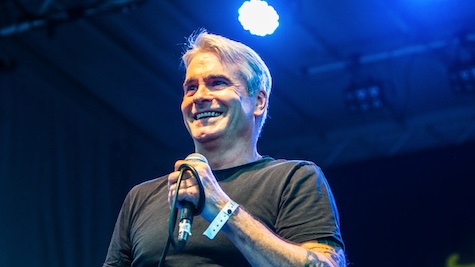 Henry Rollins tells stories Sunday night at The Admiral.
by Tim McMahan, Lazy-i.com
Not much to speak of indie-music wise this weekend…
Tonight at The Sydney in Benson, you've got Nordista Freeze on stage. Who is Nordista Freeze? Well, he's a self-proclaimed Nashville psych-pop artist who's played over 500 shows over the course of five years. Yep, sounds like another Sydney laptop-guy show. E Rawq opens at 9 p.m. $15.
Meanwhile, Omaha pop-rock project The Real Zebos headlines on Slowdown's main room stage tonight. Beachmont opens at 8. $20.
Sunday, Southern indie metal band Baroness plays at The Waiting Room. The band has been releasing their albums on their own label, Abraxan Hymns, since 2015. Riffs and arena-rock harmonies abound. Wayfarer and Empire State Bastard open at 8 p.m. $35. 
Meanwhile, down at The Admiral Theater, hardcore punk legend Henry Rollins is doing a his spoken word show Sunday night. It's a comedy set where he tells stories about life on the road.  $40. This is a seated show and starts at 8 p.m. 
That's all I got. If I missed your show, put it on the schedule. Have a great weekend. 
* * *
Read Tim McMahan's blog daily at Lazy-i.com — an online music magazine that includes feature interviews, reviews and news. The focus is on the national indie music scene with a special emphasis on the best original bands in the Omaha area. Copyright © 2023 Tim McMahan. All rights reserved.
No Comments »
No comments yet.
RSS feed for comments on this post. TrackBack URL
Leave a comment