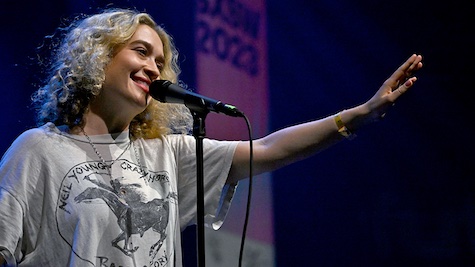 by Tim McMahan, Lazy-i.com
Welp, tonight is first in what is likely to be a series of out-of-town travel concerts — i.e., the new normal if you're a fan of modern indie music and live in Omaha. 
I bought the tickets to tonight's Blondshell concert in early March after I discovered her music via an article that listed the most anticipated acts at this year's South by Southwest festival in Austin. Blondshell topped Brooklyn Vegan's list. After listening to the singles she'd released, I checked out her tour schedule and saw that her closest pass to Omaha would be tonight's show at 7th St. Entry. 
A somewhat unknown entity at the time, tickets were easy and cheap ($15), and I figured if anything came up that prevented me from making the drive, I could just ditch them. Four months later and Blondshell, a.k.a.  Sabrina Teitelbaum, has released her debut album on Partisan Records, had a successful week at SXSW, and made her network television debut on The Tonight Show with Jimmy Fallon. And, of course, tonight's concert is now sold out.
Since she announced this tour, she's also announced that she'll be the chief support for Liz Phair's upcoming national tour, which also is skipping over Omaha. It's a potent combination, as Blondshell's confessional rock was heavily influenced by Phair as well as Hole, PJ Harvey and Patti Smith, among others. 
Is she an LA product act? Probably. When that Brooklyn Vegan mention first happened there wasn't much about her on the inter webs. Now her Wiki entry is voluminous. Turns out her first shot at music was a pop act called BAUM, which released songs used for Target ads. She's no poor indie upstart. She (reportedly) attended The Dalton School. No doubt she comes from $$$. Now, apparently, she's trying the indie thing. I don't care; her debut album is among my favorites so far this year. 
Anyway, I'll be writing a full report on the trip and live review, probably tomorrow sometime, so look for it…
* * *
Read Tim McMahan's blog daily at Lazy-i.com — an online music magazine that includes feature interviews, reviews and news. The focus is on the national indie music scene with a special emphasis on the best original bands in the Omaha area. Copyright © 2023 Tim McMahan. All rights reserved.
No Comments »
No comments yet.
RSS feed for comments on this post. TrackBack URL
Leave a comment