by Tim McMahan, Lazy-i.com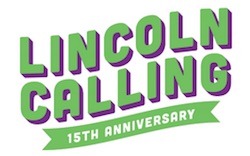 I'm sure you've already seen the initial line-up for Lincoln Calling 2018. I'm not going to list all the bands. You can see the full line-up at lincolncalling.com, but the highlights (for me, anyway):
Parquet Courts — Break-out indie band from Brooklyn on Rough Trade. They've been through here a few times, including a gig at Sweatshop Gallery.
Waxahatchee — Very cool indie singer-songwriter. Gorgeous stuff.
Japanese Breakfast — On rotation at Sirius XMU, another indie singer-songwriter.
Ron Gallo — Blew it up at Slowdown Jr. last year.
The Nude Party — North Carolina indie band will be touring with Sunflower Bean in June.
Ought — On Merge Records, Pitchfork darlings.
That's some quality shit. Alone, none could sell out The Slowdown, taken together and we're talking the stuff of an epic SXSW day party.
Add a ton more nationals and a strong collection of locals and you've got a nice little festival on your hands. Remember, this is only the "initial announcement" — there's more to come.
The event takes place Sept. 17-22. The venues are the usual LC suspects: Duffy's (inside and out), The Zoo, Bodega's and 1867, plus 14th St. for a night market. Missing is The Bourbon Theater, which I'm told currently is on hold. Bourbon hosted major acts at LC in years' past.
Tickets start at $35 and go up to $75 for VIP. One price gets you into the shows all week. Cheap! The performance schedules aren't online yet. If you're like me, you're not driving to Lincoln more than once, so that schedule will be crucial…
* * *
Speaking of schedules, the Maha Music Festival line-up is scheduled to be announced tonight. The embargoed press release says hold until 7 p.m., but I'm guessing Maha will leak the names prior to that time.
Yes, I've seen the line-up. My only hint: I haven't seen any of the three primary headliners perform live before. Considering the thousands of bands I've seen live, take that for what it's worth. The main headliner will likely cast a wide net. Stay tuned…
* * *
Two good shows are happening tonight:
At The Waiting Room tonight it's an evening with Cigarettes After Sex. The El Paso dream-pop act has been getting some serious Sirius airplay with their self-titled debut, out last year on Partisan. No opener listed. $20, 8 p.m.
Also tonight New Haven psych-rock band Headroom headlines at The Brothers Lounge. Joining them are David Nance Band, Alcools and Systematic Development Band (a four-band bill on a Tuesday night?). $5, 10 p.m.
* * *
Read Tim McMahan's blog daily at Lazy-i.com — an online music magazine that includes feature interviews, reviews and news. The focus is on the national indie music scene with a special emphasis on the best original bands in the Omaha area. Copyright © 2018 Tim McMahan. All rights reserved.
No Comments »
No comments yet.
RSS feed for comments on this post. TrackBack URL
Leave a comment