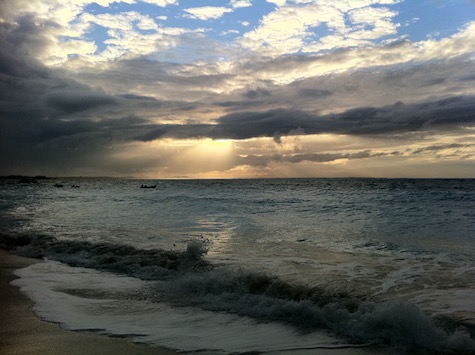 by Tim McMahan, Lazy-i.com
Nothing quite like the static buzz of bad smooth jazz played over an airport terminal intercom system to excite you about travel.
It's vacation time. Lazy-i will be dormant until next week as the staff goes on a well-deserved vacation.
In the meantime, let's all bask in the news that broke this morning about Film Streams taking over the Dundee Theater. It's hard to believe its been nearly four years since I broke the story about the theater's proposed remodel in The Reader. Now we'll have to wait a couple more long years for the remodel to be completed, but it'll be worth it.
Anyway, back to topic at hand.
I picked the right week to leave town as there aren't a lot of shows happening in my absence. The only ones I'm sorry I'm missing:
Eleanor Friedberger is headlining at Reverb Lounge Saturday. Her new album, New View (2016, Frenchkiss Records) is a return to form for the former Fiery Furnaces front woman. I saw her play at SXSW and it ended up on top of my list for performances that year. Brooklyn band Icewater opens. $13, 9 p.m. and well worth it.
Milk Run also has a few interesting shows this week:
A new Dereck Higgins project called Chemicals plays Milk Run tonight with Steve Nichols, Kyle Jesse, and Ben Eisenberger.
DWNR plays Milk Run Thursday night with Bourgeois Girl, Ordinary People, and No-Getter.
Then Sucettes play Milk Run Friday night.
Saturday night Clarence Tilton headlines at The Barley Street with Sam Cassidy, and 24 Hour Cardlock.
Then Sunday, Wolf Eyes plays at Reverb with Timmy's Organism and Video. It's a Third Man Records showcase. $10, 9 p.m.
That's all I got as I wait for my plane in Atlanta. Have a great week and we'll see you on the other side.
* * *
Read Tim McMahan's blog daily at Lazy-i.com — an online music magazine that includes feature interviews, reviews and news. The focus is on the national indie music scene with a special emphasis on the best original bands in the Omaha area. Copyright © 2016 Tim McMahan. All rights reserved.
1 Comment »
Was really excited for Dundee Theater when I first read it this morning but after finding out part of the plan gave ODB a notice to vacate in January definitely sours it.

Comment by Brian — February 24, 2016 @ 12:25 pm
RSS feed for comments on this post. TrackBack URL
Leave a comment