by Tim McMahan, Lazy-i.com
Happy Friday. Here's what's happening tonight and tomorrow night.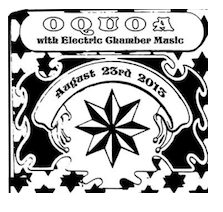 Tonight at O'Leaver's it's the world premiere of rock band Oquoa (Pronounced o' ko' uh; the word apparently is Urdu for R*O*C*K). The new trio consists of former Conduits members Roger Lewis and J.J. Idt, and frontman Max Holmquist (Great American Desert). There's nothing quite like seeing a band's stage debut. Also on the bill is Electric Chamber Music (James Maakestad, Aaron Markley, Dan McCarthy, and Daniel Ocanto). This could be a big one. 10 p.m. $5.
There's also a punk rock show happening at the Sweatshop Gallery in Benson tonight featuring Dumb Beach, Worried Mothers and Austin trio Salted. $5, 9 p.m.
Meanwhile, over at The Waiting Room, Matt Whipkey is re-celebrating the release of his latest album, Penny Park, as he's making the double-vinyl album available on CD. Matt opens for Witness Tree. Also on the bill is Moses Prey and The Decatures. $7, 9 p.m.
Saturday afternoon the Saddle Creek Shop in the Slowdown complex is hosting another in the "Songs @ Shop" series featuring all-acoustic performances by Laura Burhenn (Mynabirds), Orenda Fink (Azure Ray), Dan McCarthy (McCarthy Trenching) James Maakestad (Gus & Call) and Zack Lagrue. All will be playing songs of the '60s, as the event is part of Omaha Public Library's America's Music summer program. The fun starts at 3 p.m. and is free. More info here.
Saturday night Thunder Power plays at The Barley Street with Holy White Hounds and Mint Wad Willy. $5, 9 p.m.
Meanwhile, over at The Brothers Lounge, No I'm the Pilot opens for Jaw Knee Vee ("LoFi Rawkabilly Punk Blues Trash Boogie Woogie Stomp from St. Paul"). $5, 10 p.m.
And finally Saturday night, The Bishops play at O'Leaver's with Faded and The Bricks. $5, 9:30 p.m.
Sunday afternoon O'Leaver's is hosting its "Sunday Social Club," this time featuring Ted Stevens Unknown Project and the garage-punk duo of Killer Blow. $5 gets you in plus access to the taco bar! Tacos start at 4 p.m., music starts at 5 p.m.
Did I miss something? Put it in the comments section. Have a good weekend!
* * *
Read Tim McMahan's blog daily at Lazy-i.com — an online music magazine that includes feature interviews, reviews and news. The focus is on the national indie music scene with a special emphasis on the best original bands in the Omaha area. Copyright © 2013 Tim McMahan. All rights reserved.
No Comments »
No comments yet.
RSS feed for comments on this post. TrackBack URL
Leave a comment