by Tim McMahan, Lazy-i.com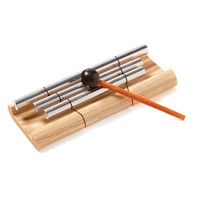 O'Leaver's needs those chimes they use at large theatrical stage productions, the tri-tone bells that indicate intermission is almost over, stub out your cigarette, finish your drink and get back to your seat because the next act is about to begin.
Wednesday night I was outside talking shit with a couple friends, just enjoying the night after a nice set of embraceable punk from touring band Toys That Kill. We got carried away arguing about R.E.M. when I figured out the next band had begun their set. It can be hard to discern between live music and the club's super-loud house music that plays between sets. "Well, have to catch Pleasure Adapter," I said, cutting it short. He concurred and we made our way into the club only to discover a couple people rolling on the "stage" floor fiddling with something technical.
That's when frontman Jeff Ankenbauer announced he'd had it, the set was over. He had a baby waiting for him at home and didn't have time to deal with what appeared to be a blown amp. It couldn't have been 10 minutes into their set, but that was it, I'd missed it. I've seen Pleasure Adapter before so it wasn't a huge loss, but there had been a lot of people there to see them Wednesday night who hadn't. As I was leaving, I ran into one of those people, a local veteran from a number of touring bands, and asked what he thought. "Kind of punk to end the set that way," he said. "Then again, maybe not."
O'Leaver's is turning into thee place for bands to debut. Two new bands will be debuting there in August consisting of members who crawled from the wreckage of fallen bands (including The Stay Awake and Conduits). As my musician friend suggested, bands need to be able to "sell out" or at least "pack" O'Leaver's before heading to The Waiting Room or Slowdown. The nice thing about O'Leaver's is that it doesn't matter if anyone shows up, he said, the guys that run the club don't care. Maybe that's true.
There seems to be a lot of "churn" going on musicwise in Omaha, a changing of the guard. Bands like Pleasure Adapter, Coaxed, Gordon, The Dad, Worried Mothers, See Through Dresses, Twinsmith are establishing a new beach head alongside first-tier next wavers like Universe Contest, Digital Leather, So-So Sailors, Solid Goldberg and Eli Mardock and current flavors from Saddle Creek like Icky Blossoms, Big Harp and Mynabirds. These bands, along with a few that I haven't mentioned either because I haven't seen them or simply forgot to, are redefining Nebraska music while the old ghosts — Oberst/Desa, Kasher/Cursive, The Faint — carry on a tradition they started, like a pack of tenured professors with the hard part behind them.  Meanwhile, we wait for the next break-out indie band to catch fire outside of Nebraska. And we wait, and we wait, and it may never happen…
* *
It's another quiet weekend show-wise, especially from a touring band perspective.
If the weather holds out, I might ride up to The Waiting Room tonight to see John Klemmensen and the Party open for Tara Vaughan. Also on the bill are Tenderness Wilderness and Michael Wunder. $7, 9 p.m.
It's Benson First Friday, by the way.
Over at The Barley Street, Underwater Dream Machine  (Who I'm told has an amazing set of new music) plays with Island Alumni. $5, 9 p.m.
Meanwhile, over at fabulous O'Leaver's, Saturn Moth plays with Small Houses. $5, 9:30 p.m.
Saturday night at Barley Street Blue Bird plays with The Ground Tyrants and Sam Vicari. Ten O'Clock Scholars headlines. $5, 9 p.m.
And that's about it. Let me know if I missed anything in the comments section…
* * *
Read Tim McMahan's blog daily at Lazy-i.com — an online music magazine that includes feature interviews, reviews and news. The focus is on the national indie music scene with a special emphasis on the best original bands in the Omaha area. Copyright © 2013 Tim McMahan. All rights reserved.
No Comments »
No comments yet.
RSS feed for comments on this post. TrackBack URL
Leave a comment