by Tim McMahan, Lazy-i.com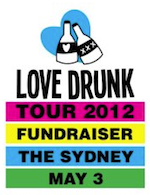 The Love Drunk storm team is spending one last night in Omaha before the crew heads to the East Coast for their 2012 Tour. In addition to Tuesday's announcement, you can read all about the tour and its fearless leader, Django Greenblatt-Seay, in my column in this week's issue of The Reader, or read it online at The Reader's website, right here.
Before they hit the road, The Sydney in Benson is hosting a fundraiser tonight to help cover some of the tour's costs. Featured bands are Honeybee and Hers, Jasong Mountain (Talking Mountain) and Bazooka Shootout. $5, 9 p.m. More info here.
And as part of this last day in Omaha, Love Drunk also is asking local bands and businesses to donate CDs, T-shirts and other promo material that they can distribute to each band they shoot on the tour, "providing just one more reason to add Nebraska cities to their tour schedule, and helping to build ties across the country."
Bands and businesses can drop their shit off at The Sydney tonight after 6 p.m. More info about the merch collection here.
The fundraiser isn't the only thing going on tonight.
Down at Slowdown Jr., Red House Records artist The Pines plays with Midwest Dilemma and Matt Cox. $8, 9 p.m.
Meanwhile, over at The Barley Street Tavern, Millions of Boys plays with The ACBs and Ghosty. $5, 9 p.m.
* * *
Read Tim McMahan's blog daily at Lazy-i.com — an online music magazine that includes feature interviews, reviews and news. The focus is on the national indie music scene with a special emphasis on the best original bands in the Omaha area. Copyright © 2012 Tim McMahan. All rights reserved.
No Comments »
No comments yet.
RSS feed for comments on this post. TrackBack URL
Leave a comment