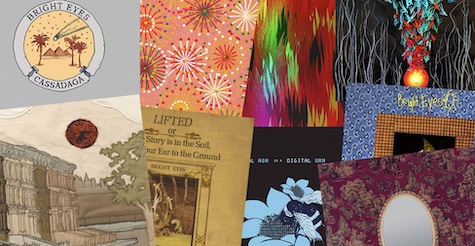 by Tim McMahan, Lazy-i.com
First off, I thought The Hard Times only published Onion-like parody articles about the indie and punk lifestyle. Then last week these two article showed up, both well written, though their content (and opinions) were a bit sketchy.
The first was "Every Bright Eyes Album Ranked." At the bottom is A Collection of Songs Written… the collection of very early Bright Eyes tracks, many written and recorded when Conor was in middle school (or younger), and they sound that way. I can't quibble with this opinion. The collection was for completists only.
At the top of the list: 2000's Fevers and Mirrors. Says writer Corey Montgomery, "If anyone ever tells you this album isn't the best one, politely tell them to eat shit and die. Just be sure to turn around before they see the single tear running down your cheek." So yeah, maybe this article was a joke after all, though Corey certainly has listened to these records before.
Of course his ranking is wrong, imho. He has Lifted… listed in the six hole, saying it "feels overcooked and desperate to please." In fact, along with I'm Wide Away It's Morning, ranked No. 2, will stand as Bright Eyes' magnum opus(es).
A few days later, Mr. Montgomery ranked "every Cursive album" and while he got No. 9 correct (2012's I Am Gemini is, uh, a difficult listen), he ranked 2007's Happy Hollow No. 1, and with a straight face said "Not enough can be said about this record's accidental timelessness." While I can get behind this pick — Happy Hollow is a great record — everyone knows The Ugly Organ is the top classic, followed closely by Domestica, which most others would place in the first spot.
If you've never heard Domestica performed live, btw, you'll get a chance May 16 at The Waiting Room — that is if you have a ticket. The show sold out a long time ago.
The Hard Times can be pretty freakin' funny (Check out "Uh Oh! I Butt Dialed Conor Oberst and Now It's the First Track on His New Album"), but I kind of dig this content, too. There's room for both, Hard Times! Now where's your ranking for 3very album by The Faint?
. 0 0 0 .
One of my all time favorite albums is Damien Jurado's 1999 album Rehearsals for Departure. I think I lucked into it via a random CD promo mailing sent by his label back in the day and for the longest time, the song "Ohio" made it onto my mix tapes.
Jurado's latest album, Sometimes You Hurt the Ones You Hate, is pretty good, too. I'm sure you'll hear songs off this one as well as "Ohio" (which is typically his set-opener) tonight when he plays at Reverb. Opening is Portland singer/songwriter Chris Pureka. $20, 8 p.m.
* * *
Read Tim McMahan's blog daily at Lazy-i.com — an online music magazine that includes feature interviews, reviews and news. The focus is on the national indie music scene with a special emphasis on the best original bands in the Omaha area. Copyright © 2023 Tim McMahan. All rights reserved.