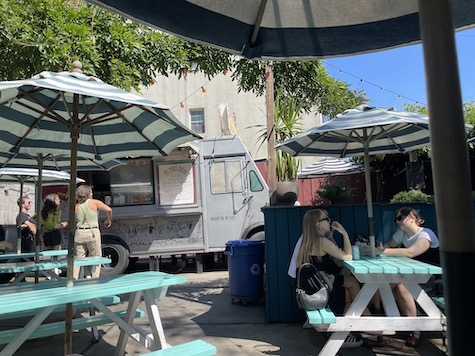 The view from my picnic table at Union Pool in Williamsburg…
by Tim McMahan, Lazy-i.com
Rarely is there anything going on music-wise over the Labor Day weekend in New York City. The usual Lower East Side venues were no exception this year, but after checking a local gig website, I discovered a show at Union Pool, a  venue located in the Williamsburg neighborhood of Brooklyn. With an afternoon to kill, we took the L train over the East River and found a very different landscape than the towering canyons that had surrounded us the past few days. 
Located across from an elevated freeway overpass, Union Pool sits on the corner down the street from a series of low-rise buildings with old-school retail businesses like barber shops, natural food stores and the ubiquitous pot shops that have popped up throughout NYC (and especially Manhattan). Just like how barber shops all have punny names (A Cut Above, Head Office, Heirloom, etc.) these pot dispensaries are destined to be plagued with a similar nomenclature (Magic Puff, Higher Empire, Day Dream, etc.). 
Pot is legal in NYC and the smell of ditch weed is everywhere, much more prominent than cigarette smoke ever seemed to be. People light up walking down the street, in parks, anywhere outdoors and certainly at Union Pool — a former pool supply store (no actual pool or pool tables). The interior had a nice bar and a closed-off (this day) stage area, while their patio reminded me of O'Leaver's — about the same size but with a permanent taco truck parked on blocks inside its fence. We hung out and drank beers across from the pseudo outdoor stage where band gear sat untouched for the next hour while DJ Rottweiler did his set.
I generally don't pay much attention to DJ sets but was unable to ignore this one as it consisted of punk and post-punk songs I've never heard before by a variety of acts both American and European — all pretty awesome. I Shazam-ed most of the set, though for every two songs Shazam found one remained elusive. Among the ones it could identify:
– The Scabs, Leave Me Alone
– Fuzzbox, Love is a Slug
– Glueams, 365
– M.A.Z.E., Spread the Germicide
– U Skripcu, Nove Godine
– The Bombettes, Amsterdam
– Joachim Witt, Goldener Reiter
– Chin-Chin, Stop! You're Crying
– Alkalino, Hungry Eyes
– Ian Dury, Wake Up and Make Love With Me
– Tee Vee Repairman, Bad Taste
– Via Talas, Sama
– Kollaa Kestaa, Kirjoituksia Kellarista
– Jawoll, Rendezvous
– Novecento, The Only One
Whether its O'Leaver's or Union Pool, hipsters are pretty much the same, although while all the dudes wore the usual band-T-shirt-and-jeans combo, a number of women were dressed as if they stepped right out of CBGB's circa 1977. Very hip indeed. As the afternoon wore on and the place got crowded, the scene became more varied and there was even a few folks older then us eating tacos by the outdoor bar. If I lived in Williamsburg, Union Pool would definitely be a regular haunt.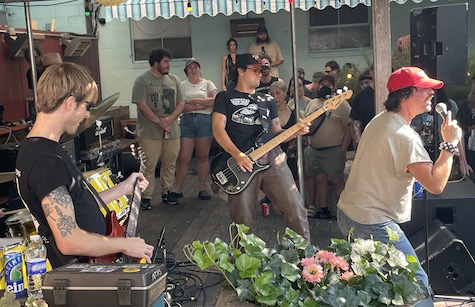 Success performing in the patio at Union Pool, Sept. 3, 2023.
We stuck around to catch the the first five or six songs from opening act, Success. I was expecting them to sound like their debut EP, First Edition, from 2021, but instead they played a straight-up hardcore set, which is always fun for about 10 minutes.
. 0 0 0 .
Anyways, we're back. And the music just keeps on coming…
Tonight at Reverb Lounge, LA act Diners, a.k.a. Blue Broderick, headlines. She's on the road in support of her 10-song LP Domino, released last month via BarNone Records. The album was recorded by power-pop producer Mo Troper and it indeed sports that classic '70s style. Also on the bill is Compressed and our very own BB Sledge. $15, 8 p.m.
Also tonight, Winnipeg noise rock trio Tunic headlines at The Slowdown. They call their sound "atonal punk. feedback laden filth." To me they sound like a proggy version of Protomartyr with lots of yelling, weird chords and time changes. Joining them tonight is The Radical Sabbatical and our very own Healer. $15, 8 p.m. 
* * *
Read Tim McMahan's blog daily at Lazy-i.com — an online music magazine that includes feature interviews, reviews and news. The focus is on the national indie music scene with a special emphasis on the best original bands in the Omaha area. Copyright © 2023 Tim McMahan. All rights reserved.