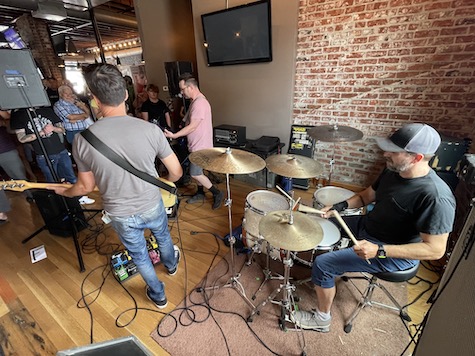 Her Flyaway Manner at Scriptown, July 8, 2023.
by Tim McMahan, Lazy-i.com
Scriptown in the Blackstone District again hosted bands this past Saturday as part of the district's Second Saturday event wherein performers performed in venues along Farnam Street.
Her Flyaway Manner was already set up and playing to a good-sized crowd at Scriptown when I arrived after 3 p.m. Like last time, the trio was set up in the back corner of the bar near the door that leads to the their back patio, where a small team of personnel was busy stuffing hotdogs and sausages into buns, the smoke from the barbecue wafting through and into the venue – it looked and felt like a Fourth of July picnic, except for the music, of course.
HFM, out of Lincoln, has been around for well over 20 years, powered by frontman/guitarist Brendan McGinn, drummer Boz Hicks and bassist Adam2000. In all that time, their sound hasn't budged much from its initial brittle, post-punk recipe, and that's a good thing. The crowd formed a circle around the band as the barkeeps tried to keep everyone's glasses filled.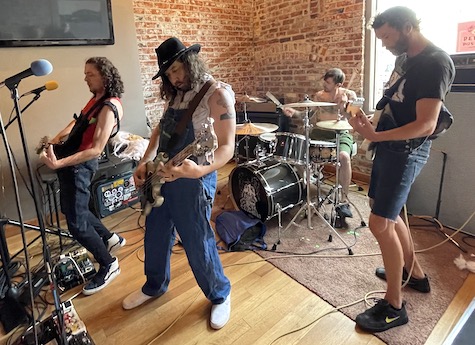 Leafblower at Scriptown, July 8, 2023.
They were followed by Omaha band Leafblower, each member of the four-piece adorned with their trademark rubber, old-man-in-a-gray-ponytail mask, which they only wore for the first song (and last). Fronted by guitarist/vocalist Danny Maxwell and bassist/vocalist Craig Fort, with Jahn Clark on second guitar and Tab Tworek on drums, this really was the first time I soaked in what they were after sonically. I've seen this band at least a half-dozen times but never paid much attention to what they were doing because I was always derailed by whatever gimmick they were using for their stage show (giant leafblower smoke machines, old-dude mannequins, etc.). Not so Saturday afternoon, as they tore into a set of good old-fashioned heavy metal. 
I'm not now, nor have I ever been, a metal fan; on the other hand, I dig Heavy Metal. The difference: HM is slower, has better hooks, better grooves, is just funkier than metal's "need for speed," which usually translates (for me, anyway) into insect-noise fronted by the Cookie Monster. Heavy metal music has more nuanced vocals (or at least better yelling) and is just more fun. And this was, indeed, fun. 
Like all good heavy metal, the proof is in the riffs, which power everything, and that was certainly the case here. The vocals, unfortunately, were next to non-existant from my vantage point behind the speakers (since there was nowhere else to stand), and the fact that Fort's mic seemed to  only be working half the time. And, goddamn, was it loud. I was happy I had earplugs. 
Good times. Scriptown needs to host bands more often. They could corner the market on live indie rock if they wanted to, as no other business in Blackstone seems so inclined to host these kinds of shows.
* * *
Read Tim McMahan's blog daily at Lazy-i.com — an online music magazine that includes feature interviews, reviews and news. The focus is on the national indie music scene with a special emphasis on the best original bands in the Omaha area. Copyright © 2023 Tim McMahan. All rights reserved.