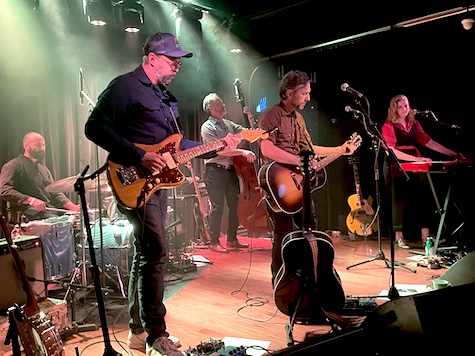 Great Lake Swimmers at The Slowdown, Nov. 2, 2023.
by Tim McMahan, Lazy-i.com
The streets of downtown Omaha were lined with cars presumably belong to patrons of the Shania Twain concert being held at that very moment in the CHI arena. Somewhere, rows of middle-aged women in denim skirts, red boots and bedazzled cowboy hats were line-dancing to "Man! I Feel Like a Woman!" 
Meanwhile, inside the dark, cavernous confines of The Slowdown, tables of more hip and no doubt more introspective middle-aged music fans waited for Great Lake Swimmers to take the small stage. What would Shania fans think of their style of rural Americana folk rock? Who am I kidding? They'd be bored out of their minds. Not that any style of music is better than another, but Shania arena concerts (well, like any arena concert) is all about the spectacle and radio hits, and, well the only spectacle at The Slowdown was the musicianship of the five people on stage who looked like they were having the time of their lives playing their music.
Fronted by singer/songwriter/guitarist Tony Dekker, the band — stand-up and electric bass, drums, guitar/banjo, keys/guitar — played a tight set of songs from their new album, Uncertain Country, along with selections from the Great Lake Swimmer's 20-year-long catalog, Dekker quietly introducing most with stories about their origins and meaning, explaining how happy he was just to be able to tour again after the pandemic kept him locked up in his Toronto home. 
Their style is indie folk more so than "Americana" and has a lot in common with '70s soft rock bands like America and Cat Stevens – at times (considering the rural themes) even reminscent of John Denver, though Dekker's voice leans closer to Neil Young's in its high timber.
An evening highlight was born from a calamity — Dekker broke a guitar string right before playing one of the band's most popular songs, "Your Rocky Spine." But instead of holding up the performance, he asked guitarist Erik Arnesen to lead off the song. What followed was an extended banjo introduction performed while Dekker kneeled on stage and did his stringing, smiling and nodding his head. The long intro changed the complexion of the song, creating a new drama not heard on the recording that they should make a regular part of their set — in other words, Dekker needs to break more guitar strings. 
That moment was only eclipsed by a gorgeous cover of Kate McGarrigle's "Come a Long Way" accented by beautiful harmonies from guitarist Colleen Brown, and an epic version of "The Real Work," from the band's 2018 album The Waves, The Wake (Nettwerk Music Group). The polite, gracious crowd of around 50 never strayed from their seats, leaving only one oddball standing next to the stage throughout the evening. 
. 0 0 0 .
Not much happening this weekend. Again, no touring indie bands are coming through. In fact, there's almost no shows at all. Is this the Husker effect?
Tonight, however, is Benson First Friday, which means Maple Street will be abuzz with art lovers taking in openings in galleries throughout the district. Among them is the opening reception at Ming Toy Gallery (6066 Maple Street) for photographer Jeanne C. Langen's De Herdere Nacht. The exhibition is a benefit for Wings of Hope Cancer Support Center in honor of Jeanne's parents – Wesley A. and Judith C. Brown (Pittack), with 100% of all sales going to the non-profit. The show runs from 6 to 9 p.m. Come by and say hi.
As part of BFF, The Sydney is hosting LA electro-techno-punk act Cruel Kiss (a.k.a. Dustin Hollenbeck), along with Ex Lover and Nowhere. $15, 9 p.m. 
Saturday night Omaha hardcore band Stronghold is having an album release show at Reverb Lounge with four opening acts: Static Soul, Heavyweight, Healer and Mass Hysteria. $10, 8 p.m.
And that is it. If I missed your show, put it in the comments section. Have a great weekend. 
* * *
Read Tim McMahan's blog daily at Lazy-i.com — an online music magazine that includes feature interviews, reviews and news. The focus is on the national indie music scene with a special emphasis on the best original bands in the Omaha area. Copyright © 2023 Tim McMahan. All rights reserved.