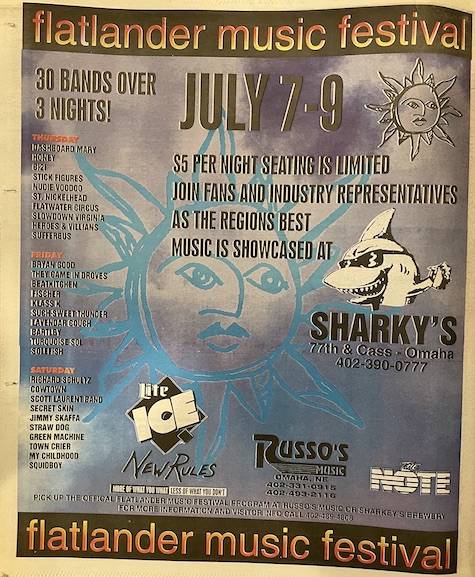 by Tim McMahan, Lazy-i.com
A week or so ago a Facebook memory showed up on my timeline – a photo of my laminate from the Flatlander Music Festival – "3 full days of intense musical ecstasy" hosted at Sharky's at 7777 Cass St. I reposted the image and asked if anyone remembered who played the fest – it was almost 29 years ago after all. Other than a few "likes" and comments, not a word. 
It got me digging through my stack of The Notes, the regional music monthly I wrote for back in the early '90s published out of Lawrence, Kansas. I faintly remembered The Note was one of the fest's sponsors and was how I got the laminate. 
Sure enough, in the July 1994 issue, Flatlander Music Festival took out a full-page back-cover advertisement (see above). The fest boasted bringing in "industry representatives" for this "regional music showcase." 
The line-up was:
Thursday, July 7, 1994: Dashboard Mary, Honey, Ci2i, Stick Figures, Nudie Voodoo, St. Nicklehead, Flatwater Circus, Slowdown Virginia, Heroes & Villains and Sufferbus.
Friday, July 8, 1994: Brian Good, They Came in Droves, Beatkitchen, Fischer, Klass K, Such Sweet Thunder, Lavender Couch, Bartlby, Turquoise Sol and Solefish.
And finally, Saturday, July 9, 1994: Richard Schultz, Cowtown, Scott Laurent Band, Secret Skin, Jimmy Skaffa, Straw Dog, Green Machine, Town Crier, My Childhood and Squidboy. 
Notable among the acts was Slowdown Virginia, a band consisting of Tim Kasher and Matt Maginn who would become half of Cursive, Steve Pedersen who would go on to front The White Octave and Criteria and Casey Caniglia. The band's name is the namesake for The Slowdown music venue. 
I know I was at this festival, but I don't remember a minute of it.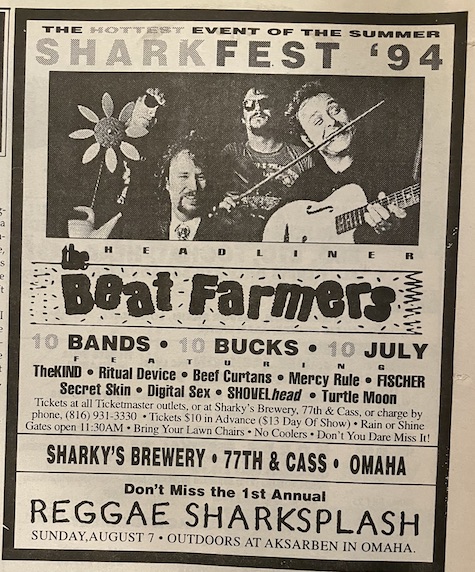 Strangely, the next day Sharky's hosted Sharkfest '94. Headlined by The Beat Farmers, the line-up for that one also included The Kind, Ritual Device, Beef Curtains, Mercy Rule, Fischer, Secret Skin, Digital Sex, Shovelhead and Turtle Moon. 
Sharky's was in the the building that used to be the old Firmature's restaurant, which if I remember correctly, had been a number of establishements before that. We used to joke that it was a cursed proprety because nothing lasted long there. The building had a rail car attached to it that was one of the first offices of weekly publication Sound & Art, which became The Reader. Local satire publication The Great Red Shark also was officed out of that building. Sharky's didn't last long. After it closed, the new Music Box took over that space, but it didn't last long, either. Eventually the building was torn down to make way for a 24-Hour Fitness, which now is a Genesis Health Club. So there you have it.
Reading through these old issues of The Note is a hoot. Whoda thought a 32-page monthly magazine dedicated entirely to local music and the industries that support it could thrive for a decade?
* * *
Read Tim McMahan's blog daily at Lazy-i.com — an online music magazine that includes feature interviews, reviews and news. The focus is on the national indie music scene with a special emphasis on the best original bands in the Omaha area. Copyright © 2023 Tim McMahan. All rights reserved.