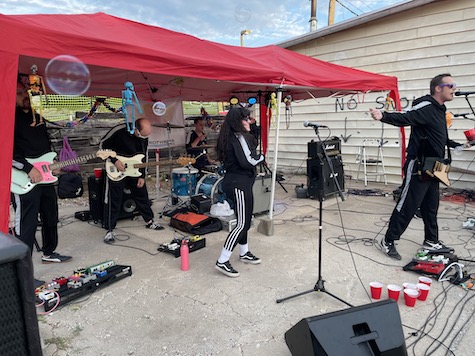 by Tim McMahan, Lazy-i.com
Petfest you already know about since I wrote about it in detail here yesterday. Go ahead and read it, we'll wait….
Other detes about Petfest: Just $30 if you buy your ticket today online here, $40 if you wait until tomorrow. Children under 10 are free. It's located behind Petshop Gallery at 2725 No. 62nd St. The fest features 20 bands and performers starting at 2 p.m. and running sometime aft 11 p.m. 
It's going to be hot as fxxx, so bring a water bottle if you don't plan on getting all liquored up. 
All info here. See you there.
What else is happening this weekend?
Maybe because it's being held at Lincoln's Pinewood Bowl, but tonight's Father John Misty concert has been flying under my radar. He played at Maha 2018 right before Weezer and was pretty good. His duet with Lana Del Rey is one of my favorite songs of 2023. FJM is opening tonight for boring folks rock act The Head and the Heart.  Miya Folick also is on the bill. This is a seated show with tickets running between $30 and $70 bucks. Starts at 8 p.m. 
Also tonight, Des Moines folk rock band The Nadas plays at Reverb Lounge with Elizabeth Moen. $20, 8 p.m. 
Tomorrow (Saturday) in addition to Petfest, it's Dundee Day, which I accidentally wrote about last week (right here). Again, don't miss the parade along Underwood Avenue at 10:30 a.m. featuring a marching band consisting of a number of indie music notables from bands that include Desaparecidos, Cursive, Flowers Forever, the list goes on and on. Should be weird.
Las Cruxes kicks off the Dundee Night Street Party at 4 p.m., which is capped off by Satchel Grande at 10:15 p.m. The full line-up is here.
Also, the Riverfront grand opening is this weekend, and there are a couple interesting performances, but you'll have to navigate their painfully lousy website to figure it out. I plan on going down there sometime this weekend. Future home of Maha Music Festival…
And that's all I got. If I missed your show, put it in the comments section. Have a great weekend.
* * *
Read Tim McMahan's blog daily at Lazy-i.com — an online music magazine that includes feature interviews, reviews and news. The focus is on the national indie music scene with a special emphasis on the best original bands in the Omaha area. Copyright © 2023 Tim McMahan. All rights reserved.