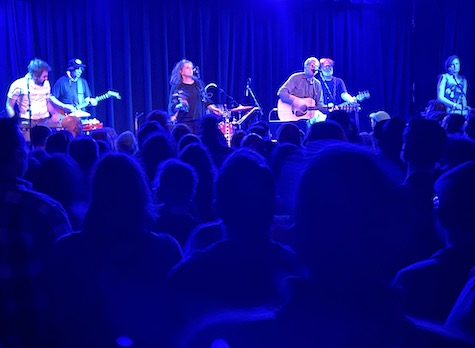 by Tim McMahan, Lazy-i.com
I have no idea how they determine when a show is "sold out." One assumes they keep count of the ticket sales and when they reach a certain number, that's it. They must have reached that number Friday night for The New Pornographers show at The Waiting Room because it sure felt packed in there. I can't remember a show more packed with people, and yet, when I checked the website or looked at the front door, there was no indication the show had sold out. 
So crowded that once inside there was no where to go except the corner of the bar right in front of the door, where I got my usual tallboy of Rolling Rock, and then somehow squeezed through the crowd while opening band Wild Pink finished their set. Part of the crowding on this side of the bar was due to a huge, long table set up next to the booths where people were handing out Amnesty International literature. I stood next to it, looking like one of the volunteers, though no one asked me any questions about human rights violations.
The cramped crowd seemed to ease a little when Wild Pink wrapped things up, and I was able to make my way to the sound board area, where I found a cubby space that would be my home for the next two hours. The New Pornographers came on stage at around a quarter after nine, opening with "Marie and the Undersea," from their new album Continue as a Guest.
The seven-piece band was fronted by Neko Case, looking more and more like a middle-aged Stevie Nicks, and Carl Newman, who is starting to resemble a short version of Steve Martin. Whenever I see Neko sing I want to run on stage and lower her microphone because it always looks like she's stretching to sing into it. I guess that's her style. Maybe it was the mix, but she sounded a bit lost early in the set but hit her stride five songs in singing the band's first single, "Really Really Light." 
From there it was just another New Pornos show, albeit without Dan Bejar, who I guess is now dedicated full time to Destroyer. The standouts to me was the addition of tenor sax player Zach Djanikian, who added some great solos and fills throughout the set, and the always fetching Kathryn Calder on support vocals. If the band seemed a bit laid-back maybe it was because of the laid-back nature of this enormous crowd – a mix of older folks with what looked like their kids — who spent the set standing and staring at the band, nodding their heads to the beat.  
Halfway through, the band announced it was trying a song they'd never played before. "Let's see how this goes," Newman said (Case and Newman chatted calmly between the songs like a couple of NPR hosts doing a podcast). The song, btw, was "Bottle Episodes," also from the new album. The band wrapped up the set with a fine version of "Whiteout Conditions," before leaving and coming back for a 4-song encore that closed with "The Bleeding Heart Show" — how they've been closing all their shows on this tour. 
So, a 90-minute concert, well played as per usual. When I think of New Pornographers I think of an era in indie music dominated by them, Belle & Sebastian and Yo La Tengo — all acts that continue to thrive 20 years or more after their debuts and who no doubt have been instrumental in helping launch other bands. Case and Newman mentioned this from stage, talking when My Morning Jacket and Vampire Weekend opened for them, and jokingly adding they were happy to give those guys a break.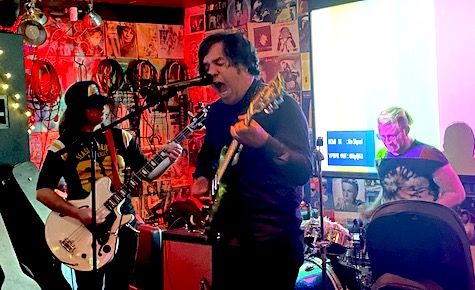 Late on Friday, O'Leaver's announced a last-minute show Saturday night with San Diego indie act Crocodiles. The band has been around since 2008, created by Brandon Welchez and Charles Rowell out of the ashes of punk bands The Plot to Blow Up the Eiffel Tower and Some Girls. They've got a number of releases on Fat Possum Records. and band members have played with a number of other bands, most notably Dum Dum Girls (Welchez apparently was once married to front woman Kristin Kontrol) and Cat Power.
Before they went on, local punk band Las Cruxes played a set as three-piece rather than their usual crowded stage of musicians. I have no idea if this is their new permanent line-up or a one-off thing, but I really dug the set. Eduardo 'Yayo' Trujillo was backed by a  drummer and bassist and played a number of songs off their upcoming album, all sung in Spanish and at times sounding like a cross between The Pixies, Galaxy 500 and Luna. At the best moments, the band rolled on longer numbers where Trujillo would rip on guitar solos, backed by that tight rhythm section, the bass really leaning forward on these songs. Just a great set of rock music.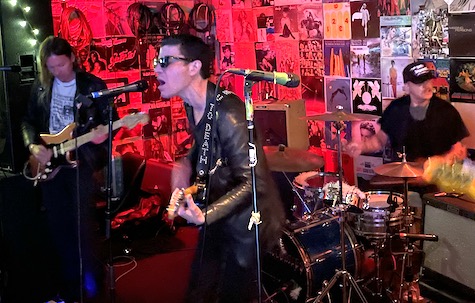 After much sound checking to fix an errant bass drum that was feeding back through the PA, Crocodiles ripped into their set. I've only heard a couple songs online from their Bandcamp page. Frontman Welchez was in fine form playing as if in front of a 1,000 people instead of fewer than 20. This is one of the tightest bands I've seen in awhile and they sounded great on O'Leaver's "stage." 
Where else can a band introduce themselves between songs and order their after-set dinner? Welchez ordered chicken strips, the guitarist had wings; the bass player, a burger to go and the drummer, tequila. 
It's been awhile since I've said this, but it was another fantastic night at O'Leaver's. And while there's no question they've gone all-in on the restaurant side of things (a new flat screen monitor has been placed above the booths by the stage that constantly shows a rotation of burgers, fries and other menu items), the Club hasn't lost sight of its heritage as one of Omaha's premiere hole-in-the-wall performance spaces. So much so that they've got a David Nance show booked for this coming Saturday and I'm told will try to book at least a couple shows a month moving forward. Hear! Hear!
* * *
Read Tim McMahan's blog daily at Lazy-i.com — an online music magazine that includes feature interviews, reviews and news. The focus is on the national indie music scene with a special emphasis on the best original bands in the Omaha area. Copyright © 2023 Tim McMahan. All rights reserved.