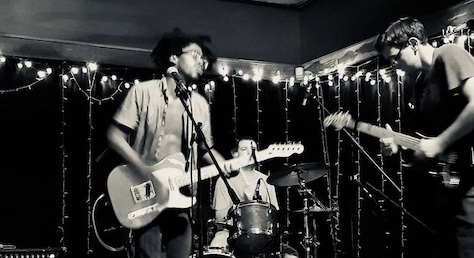 Blvck Hippie plays tonight at Reverb Lounge.
by Tim McMahan, Lazy-i.com
From the in-box…
Conor Oberst of Bright Eyes fame has signed up for two, month-long "residencies" next spring – one on either coast. Dubbed "Conor Oberst and Friends," the shows take place each Thursday in March at Teragram Ballroom in LA and each Thursday in April at The Bowery Ballroom in NYC. These will be retrospective sets played with a "rotating backing band."
"It will be a lot of work putting together a different band and set every week but it's a challenge I think (that) will be rewarding," Oberst says. Look for "surprise guests" each night. Sounds exciting, but the announcement would have been even more interesting if one of the residencies took place at O'Leaver's…
. 0 0 0 .
Speaking of Bright Eyes… that band's drummer for their recent world tour was none other than Maria Taylor of Azure Ray fame. Well, Maria just dropped the second singles from her new project, HAHA. The duo consists of Taylor and Mike Bloom, who's worked with Jenny Lewis and Julian Casablancas, among others. The track, "No Promises," was released on Taylor's Flower Moon Records. No mention if there will be a full-length in the duo's future, but something tells me…
. 0 0 0 .
Memphis singer/songwriter Josh Shaw goes by the stage name Blvck Hippie and calls his music "black fronted sad boy indie rock," and his 2021 debut album, If You Feel Alone at Parties, "the Blackest emo record of all time." Well, it's not really an emo record (thankfully) and leans closer to modern up-tempo shoe-gaze. It's pretty good.
In a recent Alternative Press interview, Shaw says there's a hidden, untapped community consisting of people of color who would love to perform and attend DIY and punk shows, but naturally feels out of place. From the article:
"People are going to feel safe in those spaces if they see someone on stage that looks like them, and bands on the bills that look like them. There are so many bands composed of people of color, but it's so hard to break into those scenes – especially since they're already kind of outcasts in a way. Venues and promoters have to go out of their way to find these Black artists and put them on the bills because just saying, 'Support Black artists' isn't enough. You have to seek out these artists, put together all-Black shows at your venue, and advertise in communities of color because there's so many weird Black kids in the neighborhoods that aren't being talked to. You have to go above and beyond the fight against the systemic oppression of Black art in general."
Right on, Josh.
Anyway, I mention all this because Blvck Hippie is headlining a show tonight at Reverb Lounge. Since this is a Black Heart Booking presentation, it's a four-band bill that includes opening bands Trees with Eyes, Cupholder, and Jar (Captain Howdy dropped off the bill due to injury). $15, 8 p.m. Too late for little ol' me but not for you slackers who don't have day jobs. Get there. 
* * *
Read Tim McMahan's blog daily at Lazy-i.com — an online music magazine that includes feature interviews, reviews and news. The focus is on the national indie music scene with a special emphasis on the best original bands in the Omaha area. Copyright © 2023 Tim McMahan. All rights reserved.