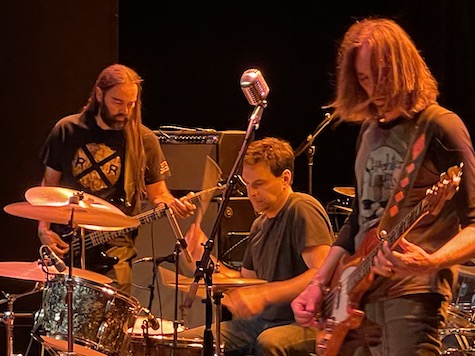 by Tim McMahan, Lazy-i.com
Yeah, Unsane music is intensely hard, but unlike traditional hardcore or modern death-metal, the band's music carries an undeniable thread of melody and counter-melody that glows through the depths of the ricochet-hand grenade rhythms. Start with a hard-fast guitar riff, layer on top a feedback-fueled lead guitar, and then sing-scream electro-distorted lyrics about alienation, fear and retribution while the drums/bass lay down a strangely funky groove and you've got the recipe for an Unsane song. It's a recipe I heard repeated by many, many bands since Unsane kicked things off with their 1991 self-titled debut album on Matador Records — you know, the one with the decapitated dude on the cover.
Unlike mega-popular metal acts Metallica or Slayer that reveal a cheesy/campy center to their fist-pump rock, Unsane music feels and sounds dark, groovy and sinister. Their music is technically smarter and more compact than your typical goon-rock growl metal, which I can only listen to for about 10 seconds before saying "Turn that shit off." The fact that Unsane is still touring today is somewhat amazing. 
Randy Cotton, who's band Violenteer opens tonight's Unsane show at Reverb Lounge, tells me Unsane recently obtained the rights to their early material, and they've remastered and re-released their first S/T record, as well as an album of previously unreleased material recorded before that. "This tour mainly focuses on that early material," Randy said.
Violenteer will be unveiling a new singer/noisescape artist at tonight's show. "His name is Steve Tulipana (Season To Risk, Roman Numerals, Slights, or Drop A Grand), and he resides in Kansas City," Cotton said. "We are super-stoked about it. He will be entering the studio next month to record on our album as well."
Tulipana is bringing his KC friends Big Water to open tonight's festivities. The band includes Matt Perrin, formerly of the band Bummer.  "Bummer had really blown up nationally in the last few years," Cotton said. "They had a sense of humor somewhat reminiscent of Killdozer, yet it was all their own. One writer described Bummer as being sort of like Nirvana on meth." 
Any other night I'd expect this show to sell out at Reverb Lounge, but the sub-zero windchill could keep folks at home. $15, Big Water kicks things off at 8 p.m. 
* * *
Read Tim McMahan's blog daily at Lazy-i.com — an online music magazine that includes feature interviews, reviews and news. The focus is on the national indie music scene with a special emphasis on the best original bands in the Omaha area. Copyright © 2023 Tim McMahan. All rights reserved.