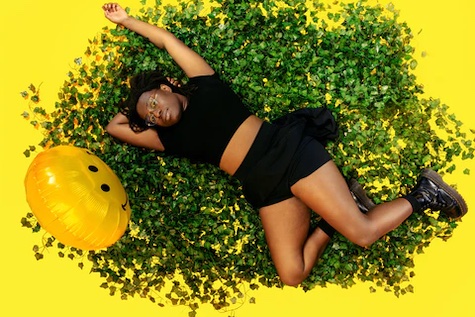 by Tim McMahan, Lazy-i.com
Singer/songwriter Shalom was one of the promising new wave of artists signed to Saddle Creek Records over the past few years — artists signed by the label's former A&R professional, Amber Carew. I mentioned back in April (here) that Carew had departed from Saddle Creek sometime in May 2022, based on her LinkedIn profile and comments made by Shalom in an interview.
Well, yesterday Stereogum reported that Shalom also no longer is part of the Saddle Creek family, basing their reporting on comments published on Shalom's substack blog, Lover Over Fear, where she outlined the reason for the departure. Shalom pointed to Saddle Creek having "fired the person who signed me, never replaced her, and then treated me like shit the rest of my time there." According to the blog, after demanding and not getting an apology from the label, communications broke down, and Saddle Creek moved to terminate Shalom's contract.
Stereogum quotes more of her blog at length. Needless to say, she's not happy. No mention in the Stereogum piece of Saddle Creek's response, likely because Creek wasn't contacted. I highly doubt the label would comment, anyway, as no company comments publicly on personnel matters. And yes, I have just now reached out to Robb Nansel at Saddle Creek for comment and will let you know if he replies on the record…
I dug Shalom's debut album, Sublimation, released this past March by Saddle Creek. She's working on the follow-up now. Wonder who will release it?
. 0 0 0 .
Puddles Pity Party is tonight at The Admiral Theater. I normally wouldn't post about this kind of show as it's really sort of a novelty / comedy act, but the guy who dresses up in a clown outfit and sings '80s power ballads (such as Foreigner's "I Want to Know What Love Is") has garnered quite a following partially due to playing smaller venues earlier in his career (he's been to Omaha a few times, I believe). His star rose after a number of appearances on the loathsome America's Got Talent. Reserved seats are $39.50-$45 (before fees). Show starts at 7:30.
* * *
Read Tim McMahan's blog daily at Lazy-i.com — an online music magazine that includes feature interviews, reviews and news. The focus is on the national indie music scene with a special emphasis on the best original bands in the Omaha area. Copyright © 2023 Tim McMahan. All rights reserved.
No Comments »
No comments yet.
RSS feed for comments on this post. TrackBack URL
Leave a comment