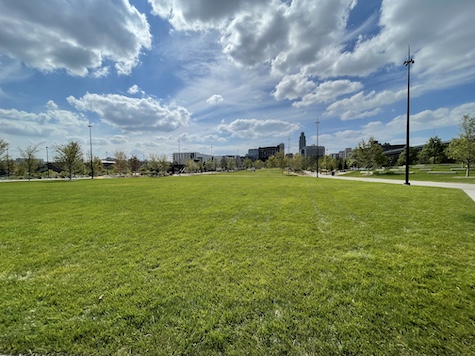 The future site of the Maha Music Festival looking west from the proposed stage location.
by Tim McMahan, Lazy-i.com
Over the past few months, people have been asking about the future of the Maha Music Festival, and for good reason. The festival's dynamic duo of co-Executive Directors Rachel Grace and Emily Cox recently resigned from the organization.
Cox has been named Event Manager at Omaha Performing Arts, another Omaha non-profit that is experiencing explosive growth with the launch of Steelhouse Omaha and the recently announced Tenaska Center for Arts Engagement, which is under construction right across the street from Steelhouse.
Rachel Grace also just took a new job as an Experience Strategist at Swanson Russell, the Lincoln-based adverting and marketing agency that has a field office in Omaha.
To say that Grace and Cox were "hands on" when it came to putting on Maha would be a sizable understatement. They basically ran the whole dang thing with the help of an army of volunteers and an active board of directors. That board's President, T.J. Twit, said there currently isn't a search under way for a replacement ED.
So how will Maha go on without one (or two), especially with the festival's announced move from Stinson Park at Aksarben Village to the new RiverFront Park for 2024?
Twit said Maha is going to contract with a production company for 2024 that will run the day-of-show production and festival operation. "We signed a contract with MECA and as of right now plan on having a two-day festival the last week of July," Twit said.
While Maha saw an increase in attendance last year, Twit said the entire festival industry is experiencing headwinds in terms of talent costs, "which hit us right between the eyes in 2023."
He said Maha will be more careful in how they book bands in the future, with an eye toward talent costs, bands touring together, and opportunities to book acts that are already being routed through the Midwest.
He said Maha has yet to book any acts for 2024 and doesn't plan on moving away from the style of bands the festival has historically booked. "We're going to try to keep the Maha-ness in tact," he said.
Without an executive director, Twit said the Board is taking a more active role in the booking process. He pointed to board member Missy Hardersen, who has 20 years' entertainment industry experience, including at Stir Concert Cove. "This is what she did," Twit said. "We've leaned on her and her expertise."
Twit said the board will eventually look for a new leader to run the festival. "Maha needs a head coach," he said. "Someone whose full-time job is Maha."
* * *
Read Tim McMahan's blog daily at Lazy-i.com — an online music magazine that includes feature interviews, reviews and news. The focus is on the national indie music scene with a special emphasis on the best original bands in the Omaha area. Copyright © 2023 Tim McMahan. All rights reserved.
No Comments »
No comments yet.
RSS feed for comments on this post. TrackBack URL
Leave a comment