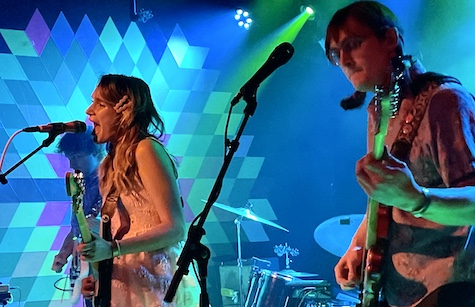 Speedy Ortiz at Slowdown, Nov. 17, 2023.
by Tim McMahan, Lazy-i.com
We missed opening band UN-T.I.L. Friday night at The Slowdown, which I guess you could call another life lesson for this very young band that is the product of the Omaha Girls Rock program. We had just seen them a couple weeks earlier at that organization's fundraiser at Benson Theater (they were awsome) and kind of knew we'd miss them Friday as we were running late. The life lesson: The opening slot in a three-band (or even worse, four-band) bill often gets missed by those who don't want to (or can't) spend three-plus hours at the venue.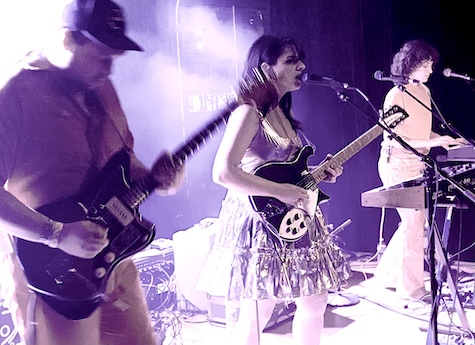 Spacemoth at Slowdown, Nov. 17, 2023.
We arrived right as Spacemoth began their set. The four-piece led by Maryam Qudus played a woozy brand of spacey shoegaze indie rock, dominated by synths. They were at their best when they were at their simplest – stripped down to the most basic rhythm/melody. 
The inability to understand the words sung by the vocalist is practically a shoegaze trope, but here, when the band is straddling the line that divides shoegaze from indie rock, the lack of enunciation only takes away, as the vocals merely become another tonal instrument. 
Their set's highlight was the second to last song, which Qudus said was "a new one." It stood above the others in its more conventional arrangement – in other words, it rocked. Kicky fun. More of this, please. 
Speedy Ortiz came on at around 10 p.m. and proceeded to rock the crowd of around 60. The band's latest, Rabbit Rabbit, is maybe their least accessible album, with intricate rhythms and melodies that lean close to prog. Surprising time changes, wandering vocals and dominate, at times over-the-top drums make this anything but sing-along stuff. There were moments when the drums were down-right distracting. Songs off the new record performed live were sometimes grooveless, but when they did fall into a groove, you really noticed.
Front person Sadie Dupuis was complimentary about our fair city throughout the set, but the whole band was taken by surprise when the crowd didn't react to the shout-out. Dupuis said if this were Philly, the crowd would have gone bananas with just the mention of their town's name; but in this case, the reaction was matter-of-fact, if they acknowledged it at all. 
Despite this, later in the set, Dupuis remarked why she loved playing in Omaha. Apparently Mike Mogis mixed the band's previous album, which meant she spent a couple weeks here, driving around. "It's almost like a second home," she said. In that case, welcome home, Sadie, we missed you. 
* * *
Read Tim McMahan's blog daily at Lazy-i.com — an online music magazine that includes feature interviews, reviews and news. The focus is on the national indie music scene with a special emphasis on the best original bands in the Omaha area. Copyright © 2023 Tim McMahan. All rights reserved.
No Comments »
No comments yet.
RSS feed for comments on this post. TrackBack URL
Leave a comment