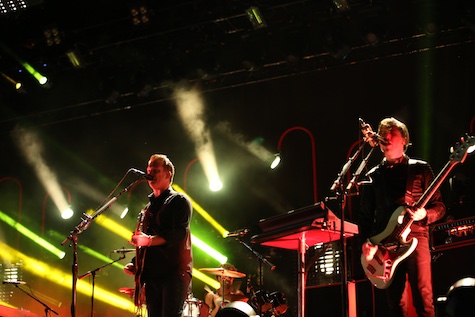 Queens of the Stone Age play tonight at Steelhouse.
by Tim McMahan, Lazy-i.com
Alt rock royalty is in town tonight in the form of Queens of the Stone Age at Steelhouse. If you're not familiar with the Seattle band, they're the natural evolution of grunge, releasing albums initially on Interscope before switching over to Matador about a decade ago. Their heyday was at the turn of the century with the release of Rated R (Interscope). They've got a sort of macho cock-rock strut to their sound, and past members include Dave Grohl, though the main dude has always been Josh Homme. 
I'm told there was a bidding war of sorts for this show and that Live Nation — and Steelhouse — won.  That said, you can still buy general admission floor tickets for $59 plus fees. 
More interesting than QOTSA are the opening acts. Punk Swedes Viagra Boys play a chug-a-lug style rock with a frontman (Sebastian Murphy) doing his best Iggy impersonation. A fun band that is a natural compliment to the headliner. Opening is Savages front person Jehnny Beth, who has performed with the likes of the XX, LCD Soundsystem, Gorillaz and Primal Scream. Her debut solo album, To Love Is to Live, was produced by Nine Inch Nails' Atticus Ross and FLOOD.  Of the three acts, Jehnny Beth is the one that's the most interesting (to me, anyway). The show has a 7 p.m. start-time according to the Steelhouse website. (I'm not sure that's a real start time and just a door time, as going to Steelhouse is akin to going to an airport.)
Meanwhile, across town at The Waiting Room, Swans headlines. Emerging from the so-called '80s No Wave scene in LES NYC, the band plays a brutal, gothy, post apocalyptical style of rock that has influenced a couple generations of noise bands including Napalm Death, Neurosis, Nirvana, Melvins, Isis and even little ol' Car Seat Headrest (though I can't spot the influence in that band's music). Their sound is dark and can even meditative, with a typical song running well over seven minutes. You're in for a long, gloomy night. Worth it just to see frontman Michal Gira, who will be 70 in February and is a living legend. 
Opening is Norman Westberg, a long-time member of Swans who's not currently listed in their roster, but I wouldn't be surprised if he sat in on a few songs.  His latest, After Vacation (2018), is a collection of ambient sound collages. Enjoy. $35, 8 p.m. 
But wait, there's more.
Portland (Maine) indie trio Weakened Friends headlines at Reverb Lounge. On their latest, Quitter (2023, Don Giovanni Records), the band plays a bombastic style of indie that melds singer/songrwriter tropes with Weezer-esque powerchords. Opening is Omaha band OJAI. 8 p.m., $18. Take a wild guess which show I'll go to (if I go out at all)…
* * *
Read Tim McMahan's blog daily at Lazy-i.com — an online music magazine that includes feature interviews, reviews and news. The focus is on the national indie music scene with a special emphasis on the best original bands in the Omaha area. Copyright © 2023 Tim McMahan. All rights reserved.
No Comments »
No comments yet.
RSS feed for comments on this post. TrackBack URL
Leave a comment