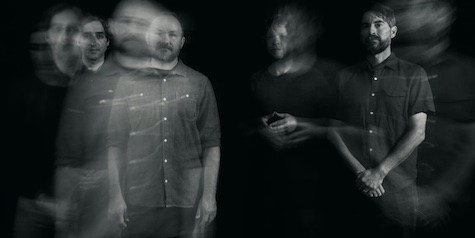 by Tim McMahan, Lazy-i.com
It's another ho-hum Husker weekend, but there's one touring indie show tonight…
Tonight at The Admiral Explosions in the Sky headlines. There was a time in the 2000s when ambient indie all-instrumental bands were the thing. Who remembers Tristeza, who folded in 2010, and The Album Leaf, who are still going strong? Explosions in the Sky were part of that movement, releasing How Strange, Innocence in 2000 and really peaking in 2003 with The Earth Is Not a Cold Dead Place that included their most popular track, "Your Hand in Mine," which has more than 66 million plays on Spotify.  The band got lucky and broke through to a large audience after writing the soundtrack to 2004 film Friday Night Lights. 
Like The Album Leaf, Explosions in the Sky never really went away. and can count themselves among other top touring instrumental-only indie acts like Sigur Ros, Mogwai, Godspeed You! Black Emperor and Caspian. The song formula for these acts is all very similar – each song starts out quiet as a whisper and slowly builds for seven or eight minutes into a crashing, orgasmic conclusion. Expect to hear this formula on repeat tonight.
Explosions is touring their latest album, End, released just last week on Temporary Residence Records.  Opening is Glow, who is virtually invisible on the internet. Tickets are $40 ($50.15 with fees). 8 p.m. 
. 0 0 0 .
According to their website, The Astro Theater amphitheater in La Vista opens (with little fanfare) tonight with C&W artist Casey Donahew and then tomorrow is hosting The Goo Goo Dolls and Fitz and the Tantrums. The facility was supposed to opened weeks ago, but was delayed, presumably due to construction issues. Some shows were moved to other venues. I see no indication that shows tonight and tomorrow are being moved, so I guess this is it. Congratulations!
These are reserved seated shows, so, for example, for that Goo Goo Dolls show tomorrow, if you wanted to sit up front, tickets wouild run you a cool $145 plus fees. Whereas a ticket in the back section is $44 plus fees, according to the Ticketmaster website that's handling tix sales. Fitz opens at 7:30.
. 0 0 0 .
Finally, Saturday night at The Sydney in Benson industrial-ambient act Lunacy headlines. They describe themselves as "a dystopian shadow figure located in Rural Pennsylvania, which is a character set in the empty corroded future that focuses on themes of loneliness, emptiness and mental illness. A character that often fits the description of late '80s and early '90s post-apocalyptic films." Fun! Llora opens at 9 p.,m. $10. 
And that's all I got. If I missed your show, put it in the comments section. Have a great weekend.
* * *
Read Tim McMahan's blog daily at Lazy-i.com — an online music magazine that includes feature interviews, reviews and news. The focus is on the national indie music scene with a special emphasis on the best original bands in the Omaha area. Copyright © 2023 Tim McMahan. All rights reserved.
No Comments »
No comments yet.
RSS feed for comments on this post. TrackBack URL
Leave a comment