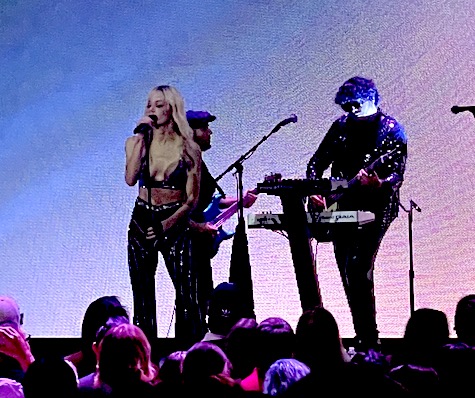 Cannons at The Slowdown, Aug. 29, 2023.
by Tim McMahan, Lazy-i.com
Last night's Cannons show was officially the weirdest crowd I've seen at The Slowdown. They fit no specific demographic or style – a strange combination of parents you'd see at a Little League baseball game combined with late-30s club people in resortwear or sequined pants. Alongside them, folks dressed like accountants and teachers. Here walked a young woman with what looked like a fashion-forward walking cane, passing a blond in a gold lamé crop top standing next to five guys dressed in identical black T-shirts loudly talking about bad TV shows. Lots of "Untucked" dressed shirts and slightly overstyled women who thought they were in for a night of dancing that would never happen on that overcrowded dance floor.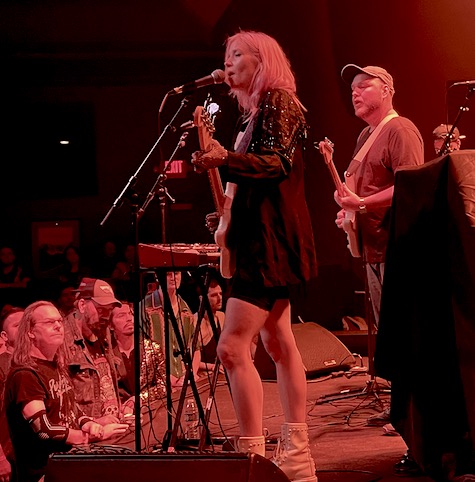 New Constellations at The Slowdown, Aug. 29, 2023.
New Constellations frontwoman Harlee Case was commanding the audience when I arrived, at times sounding like a cross between Kim Carnes and Angel Olson fronting an indie pop band that was much less "dance-y" than what's heard on their latest single. 
This was also one of the most crowded Slowdown main room shows in recent memory — even my secret spot near the fire doors at stage left was taken by couples with arms draped over each other. One couple feverishly made out standing in front of the stairs.
I pushed through the crowd to get a spot on the floor between sets and was immediately asked to move by a skinny young guy with a shadow mustache dressed as if for his Confirmation. "I'm saving this spot for Beyonce," he said, making a hoop with his arms in front of him. 
Beyonce? She's here tonight?
"No," he yelled over the music. "Fiancé. My fiancé." I nodded, held up my hand in a peace gesture and pushed my way back up to the top aisle and through the crowd to the back by the pool tables where a steady stream of club goers walked in an out to the patio. The between-set music was a combination of Avril Lavigne, Steve Monite and late-'90s Cher. When Tina Turner got her turn, the crowd rose with the chorus — "What's Love Got to Do With it?"
I realized pretty quickly this wasn't going to be my scene. Early in the evening, someone I knew spotted me standing in the back and asked what I was doing there. "This is the last show I expected to see you at."
I shot him a look. "Don't be absurd. I like modern dance music as much as the next guy." Which was true. I do like well-produced dance music from artists like Tei Shi, Your Smith, Charli XCX and La Roux, which Cannons music sort of reminds me of — well-made, catchy. And here was Cannons tonight – a live, 4-piece band playing dance music – bass, drums, guitar/synth and vocals that sounded almost too good to be true. 
I walked up to the back end of the crowd that had pushed its way to the bar – the closest I'd get to the stage for the rest of the night. Every song sounded like an '80s dance anthem. A few girls in the crowd sang along while wiggling their arms over their head as the band played their hit, "Bad Dream." 
The sound mix was too bright for this style of music, which actually sounded better with earplugs. Front woman Michelle Joy announced this was their Heartbeat Highway tour, their upcoming fourth album, which has yet to be released. Among the new songs unveiled last night, "Can You Feel My Heart?," which was straight out of an '80s homecoming dance but with a groovy Delfonics-style twist to the chorus. All of which might explain the older audience, although I have no idea where they could have heard this band before, other than on Netflix – but how many bands have you discovered from Netflix?
In typical Omaha fashion, this mish-mash crowd of Soviet-era disco dancers, Jersey Shore extras and elderly hipsters stood motionless throughout the set, staring at Joy as she gyrated across the stage one hand in the air, the other holding her microphone, while the band stood rock solid in the background. I thought how great this music would sound in a darkly lit club filled with folks grooving to the beat, but how it lost something in an overcrowded venue filled with people who were either too crowded or too afraid to move.
* * *
Read Tim McMahan's blog daily at Lazy-i.com — an online music magazine that includes feature interviews, reviews and news. The focus is on the national indie music scene with a special emphasis on the best original bands in the Omaha area. Copyright © 2023 Tim McMahan. All rights reserved.
No Comments »
No comments yet.
RSS feed for comments on this post. TrackBack URL
Leave a comment