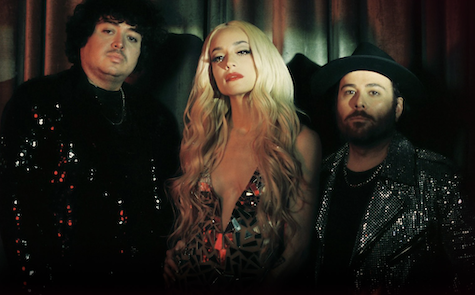 Cannons play tonight at The Slowdown.
by Tim McMahan, Lazy-i.com
Los Angeles vibe-dance trio Cannons's key to success has been having its songs used in a variety of cable TV shows. The band has been digitally self-releasing EPs and LPs  since 2014. But they didn't catch fire until the track "Fire for You" was used on the Netflix series Never Have I Ever. Since then, their songs have shown up in a number of TV shows, including HBO's Ballers, Kendall and Kylie Jenner's Topshop and Fox/Neflix series Lucifer among others. 
All of that led to a deal with Columbia Records, who released 2022's Fever Dream. They describe their music as sounding like "a Cliff Martinez's accompanied by Stevie Nicks." Very synth heavy, good beats, and front woman Michelle Joy has a great voice (but she's no Stevie Nicks). Taken together, it sounds like '80s FM synth rock, retro and well made. 
Cannons headlines tonight at The Slowdown with Portland synth-rock-dance duo New Constellations and Austin synth-rock-dance duo Jane Leo. This is a main room gig, starts at 8 p.m. and is SOLD OUT.
* * *
Read Tim McMahan's blog daily at Lazy-i.com — an online music magazine that includes feature interviews, reviews and news. The focus is on the national indie music scene with a special emphasis on the best original bands in the Omaha area. Copyright © 2023 Tim McMahan. All rights reserved.
No Comments »
No comments yet.
RSS feed for comments on this post. TrackBack URL
Leave a comment