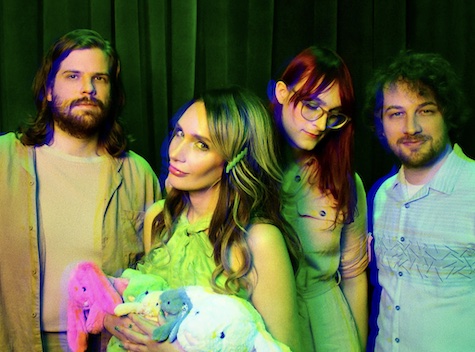 Speedy Ortiz dropped a new single and is coming to The Slowdown in November.
by Tim McMahan, Lazy-i.com
Making a go of it as an indie band has never been easy. Even in the heyday in the early 2000s, young bands who wanted to break through to the next level had to commit to spending a lot of time on the road, playing to small crowds in venues that ranged from your typical local music club to someone's basement. 
Three weeks ago, Saddle Creek Records' latest roster addition, Feeble Little Horse, celebrated the release of their Creek debut, Girl with Fish. Pitchfork gave the album its illustrious "Best New Music" designation and a startling 8.2 rating, calling it a "richly textured album full of fuzzy melodic hooks and beguiling left turns." Sirius XMU began to play the first single, "Steamroller" on high heat rotation. 
Everything was setting up well for their just-announced month-long tour and the inevitable world conquest, and then late last week the band posted on Instagram that they had cancelled all the dates.
"we were so excited and this tour meant the world to us. we have been blown away by all the recent support we have received but for now we have to take a step back and reassess our little world for our continued health. we are really sorry if this has a negative impact on anyone's best summer ever plans it definitely is lame for us as well. right now, we are letting the horse get a good night's sleep."
Among the thank you's was one for Saddle Creek Records: "thank you @saddlecreek for carrying us to heights we never imagined." There have been no further FLH posts, and who knows what happened, but in this new age when people are now recognizing their health needs (mental or otherwise) and taking the necessary actions, the band seems to have wisely pulled their hand away from the fire when the flame is at its highest. Hopefully they'll be back on the road soon and will remember Omaha as a tour stop. 
. 0 0 0 .
Philly band Speedy Ortiz dropped a new single and video yesterday from their upcoming album, Rabbit Rabbit, out Sept. 1 on Wax Nine Records. They also announced a tour that will bring them to The Slowdown Nov. 17 (OMG, summer will be in our rear view mirrors by then). Check it:
. 0 0 0 .
Omaha's Ebba Rose a.k.a. Erin Mitchell and 2023 Maha Festival performer, celebrates the release of her new album tonight at Reverb Lounge. The four-band bill includes Cowgirl Eastern, BB Sledge and Trees with Eyes. $15, 8 p.m. 
* * *
Read Tim McMahan's blog daily at Lazy-i.com — an online music magazine that includes feature interviews, reviews and news. The focus is on the national indie music scene with a special emphasis on the best original bands in the Omaha area. Copyright © 2023 Tim McMahan. All rights reserved.
No Comments »
No comments yet.
RSS feed for comments on this post. TrackBack URL
Leave a comment